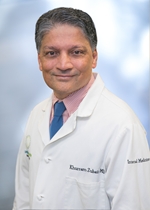 Board certified in internal medicine, Dr. Zubair has been affiliated with Capital Health for more than 20 years. He received his medical degree at Liaquat Medical College in Jamsboro, Pakistan and was resident house surgeon and resident house physician at Jinnah Postgraduate Medical Center in Karachi, Pakistan. He completed his internal medicine residency at Capital Health Regional Medical Center.
Before joining Capital Health Primary Care – Lawrenceville, Dr. Zubair was part of the staff at Capital Health  Primary Care - Brunswick Avenue and in private practice since 1997 while also serving as a faculty member of the Internal Medicine Residency Program at Capital Health. Over the course of two decades, he has received the Best Clinical Attending award several times, as chosen by the residents. Dr. Zubair remains actively involved with resident scholarly activities at Capital Health and judges research projects for third-year residents.
Click here to schedule an appointment online with Dr. Zubair. 
Click here for a list of accepted insurances at Capital Health Primary Care - Lawrenceville.