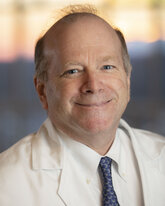 Dr. George Heyrich earned his medical degree from Georgetown University School of Medicine in Washington, D.C. He completed his residency and internship (serving as chief medical resident) at Thomas Jefferson University Hospital in Philadelphia, Pennsylvania. He then received his fellowship training in cardiovascular medicine and interventional cardiology at Yale-New Haven Hospital in New Haven, Connecticut. He is board certified in cardiovascular disease, interventional cardiology, cardiovascular CT, and internal medicine. 
His current clinical interests include:
•    Coronary artery disease management
•    Coronary artery intervention with advanced stent technology
•    Advanced coronary intervention utilizing rotational atherectomy and coronary shockwave lithotripsy
•    Advanced supported coronary intervention and heart failure management, using mechanical support with Abiomed Impella device
•    Intravascular coronary ultrasound (IVUS)
•    Intracardiac echocardiography (ICE)
•    Structural heart intervention 
•    PFO/Atrial septal closure for stroke management 
•    TAVR
•    Percutaneous mitral valve intervention (MitraClip)
•    Endovascular peripheral vascular intervention
Dr. Heyrich was a founding member of Mercer Bucks Cardiology for almost 30 years prior to joining Capital Health – Cardiology Specialists. During that time, he has served as principal investigator or sub-investigator for more than 30 research trials with associated publications. He is a fellow of the American College of Cardiology and the Society of Cardiovascular Angiography and Interventions. Prior to joining Capital Health – Cardiology Specialists, he was director of the Chest Pain and Structural Heart Disease Program and the Coronary Brachytherapy Unit at St. Mary Medical Center in Langhorne, Pennsylvania. He has been recognized as a Philadelphia Magazine Top DOC for more than seven consecutive years and was named a Suburban Life Top Physician. 
Dr. Heyrich is actively engaged in medical education, philanthropy and mentoring. He currently serves on the medical alumni board of Georgetown University School of Medicine and is the recipient of the Georgetown University School of Medicine Founders Award recognizing distinguished medical alumni. Dr. Heyrich has served in numerous roles of medical leadership, achieving the Aretsy Fellow degree in medical leadership from the University of Pennsylvania Wharton School of Business. He is currently serving on the Board of Directors of the Bucks County Pennsylvania Medical Society. He has also served on several foundation boards and is closely working with the Capital Health Foundation to improve care and access to our community. 
Click here for a list of accepted insurances at Capital Health Cardiology Specialists – Newtown.