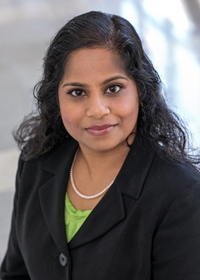 Dr. Sajina Prabhakaran is a board certified, fellowship trained rheumatologist specializing in the diagnosis and treatment of musculoskeletal disease and systemic autoimmune conditions that affect the joints, muscles, and bones.
Following her residency in internal medicine at Abbot Northwestern Hospital in Minneapolis, Minnesota, Dr. Prabhakaran completed her fellowship training in rheumatology at Drexel University College of Medicine in Philadelphia, Pennsylvania where she also worked as the Chief Fellow. She was involved in teaching both medical students and residents. She received her medical degree at MS Ramaiah Medical College in Bangalore, India.
Previously, Dr. Prabhakaran was a practicing rheumatologist in private practice in Jenkintown, Pennsylvania. Her interests include but are not limited to lupus, inflammatory joint disease, osteoporosis and vasculitis, and she has performed research in osteoarthritis, osteoporosis, SAPHO and drug-induced autoimmune disease. She has presented and won awards for her research at annual scientific meetings.
As a medical student, Dr. Prabhakaran volunteered at health care camps in India, providing medical care in villages and remote areas where basic primary health care was not available to local residents. She also participated in an educational and research program to help medical school students develop research skills and increase awareness of common medical and socio-economic challenges faced by members of their communities.
Dr. Prabhakaran is a member of a number of professional societies and associations, including the American College of Rheumatology, the American Board of Internal Medicine, the American College of Physicians, and the Philadelphia Rheumatism Society.
Click here to schedule an online appointment with Dr. Prabhakaran.
Click here for a list of accepted insurances at Capital Health - Rheumatology Specialists.