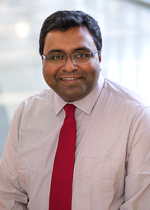 Dr. Sunil Thomas joined Capital Health from Henry Ford Health System in Detroit, MI, where he completed his fellowship training in adult endocrinology. Dr. Thomas completed his internal medicine residency at Metrohealth Medical Center in Cleveland, OH. He earned his medical degree from Kasturba Medical College in India followed by specialist registrar training in diabetes and endocrinology at South Wales Deanery in South Wales, UK.
Dr. Thomas is board certified in internal medicine and endocrinology by the American Board of Internal Medicine. He has published works and presented on topics including treatment of post-transplant diabetes mellitus, type 2 diabetes and insulin resistance, hypoglycemia, and the prevalence of restless leg syndrome in patients with diabetes.
He has been an active member in many national professional societies, including the American Medical Association, American College of Physicians, American Diabetes Association, Endocrine Society and the American Association of Clinical Endocrinologists.
Click here to schedule an online appointment with Dr. Thomas (Hopewell location).
Click here to schedule an online appointment with Dr. Thomas (Bordentown location).
 
Click here for a list of accepted insurances at Capital Health - Endocrinology Specialists.