The Turkish American National Steering Committee (TASC), a national community advocacy organization, recently made a significant donation of disposable gowns, N95 masks, and face shields to front-line health care workers at Capital Health Regional Medical Center in Trenton, New Jersey. Dr. Vedat Obuz, an internal medicine provider and medical director of Lotus Clinics in Trenton, coordinated this effort with TASC national co-chair Dr. Halil Mutlu and Huseyin Cahit Ozbay, a leading businessman from TASC's South Jersey chapter.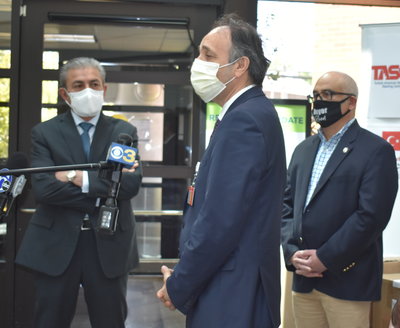 "Dr. Vedat Obuz has more than 32 years of experience serving our community and an outstanding relationship with Capital Health, " said Al Maghazehe, president and CEO of Capital Health. "In addition to his strong connections to the residents of Trenton and surrounding areas, Dr. Obuz shares Capital Health's commitment to providing the safest care possible during the COVID-19 crisis and going forward as we prepare to resume a broader range of inpatient and outpatient care. We can't thank him enough and everyone at TASC for this act of exceptional generosity."
As a volunteer with TASC, Dr. Obuz worked closely with Dr. Halil Mutlu, co-chair of TASC and a physician at Baystate Medical Center in Springfield, Massachusetts, part of Tufts University School of Medicine. Burlington County businessman Huseyin Cahit Ozbay, coordinator of the TACS South Jersey chapter and president of the South Jersey Muslim Association at Burlington Selimiye mosque assisted with the donation.
"I've been blessed to serve the people in the Trenton area for a very long time," said Dr. Obuz. "I'm also very pleased to be a part of TASC, so it is exciting to bring two important parts of my life together in a way that hopefully strengthens bonds in the larger community. This type of unity will help see us through the COVID-19 crisis."
With this kind of support from organizations like TASC and other members of the community, Capital Health's emergency departments and medical offices continue to take all the necessary precautions to keep patients safe on the front lines and across all service lines. As public health restrictions ease, a gradual reopening will balance Capital Health's patient-focused approach to care with best practices in infection prevention for patients, visitors and staff.