Region's largest orthopaedic practice expands into central NJ
Rothman Institute, the Philadelphia region's largest orthopaedic practice, is expanding its full line of orthopaedic offerings to Capital Health. As part of the agreement, Rothman Institute surgeons and physicians will be granted privileges at Capital Health facilities including: Regional Medical Center – Trenton and Capital Health Medical Center – Hopewell. The partnership also includes the development of an Orthopaedic Center of Excellence.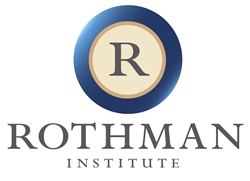 "We're honored and excited to join the Capital Health family," said Alexander R. Vaccaro, MD, PhD, MBA,President of Rothman Institute. "They have a superb management structure and their physicians share the same philosophies regarding health care as Rothman Institute. We look forward to transitioning into their health care system and bringing the best orthopaedic care closer to the communities of Central New Jersey and Bucks County."
"Capital Health is proud to partner with the world-renowned Rothman Institute in bringing truly world-class orthopedic care conveniently to the residents of Mercer and Bucks counties and beyond," said Al Maghazehe, PhD, FACHE, President and CEO of Capital Health. "Our unique partnership represents another step forward for Capital Health as we further develop the depth and breadth of our clinical programs for the benefit of our neighbors."
"As the leading health care provider in the Mercer County area, we feel that the Rothman Institute is a perfect partner for Capital Health," said Samuel J. Plumeri, Jr., Chair, Capital Healthcare Corporation Board of Directors.
"I couldn't agree more," comments Carolyn Gaukler, MD, President of the Capital Health Medical Staff, "We are excited to welcome the Rothman Institute with their reputation of excellent care and best practices. Our goal is to provide the highest level of orthopaedic care and the best outcomes for our community."
"The decision to partner with Capital Health was a natural one with their geographic reach and accessibility in Central New Jersey and Eastern Pennsylvania," said Mike West, CEO of Rothman Institute. "They have the same commitment to excellence as our organization and have an outstanding reputation in the Trenton marketplace and its extended suburbs. We anticipate a successful transition and partnership now and long into the future."
Rothman Institute physicians will now have surgical privileges at two Capital Health facilities:
The physicians of Rothman Institute offer musculoskeletal care across all subspecialties, including:
Joint Replacement
Spine, Back & Neck
Sports Medicine
Hip & Knee
Foot & Ankle
Shoulder & Elbow
Hand & Wrist
Physical Medicine & Rehabilitation
Orthopaedic Trauma & Fracture Care
About Rothman Institute
Rothman Institute is a private orthopaedic practice dedicated to providing communities with high-quality, compassionate, and affordable musculoskeletal care that is grounded in evidence-based medicine, the results of which will exceed expectations. Rothman Institute orthopaedists treat patients at over 25 locations in the Philadelphia-region, including orthopaedic urgent care clinics in Marlton, NJ and Limerick, PA.
With experts in orthopaedic sub-specialties including spine, hip and knee, foot and ankle, shoulder and elbow, hand and wrist, sports medicine, physical medicine and  rehabilitation, orthopaedic oncology and trauma, Rothman Institute is internationally recognized for excellence in clinical treatment  methods, research, education and technology.
Consistently recognized as national and regional "Top Docs," Rothman Institute is proud to be the first practice serving as official team physicians for all four of the major professional sports teams in one city, the Philadelphia Eagles, Phillies, Flyers and 76ers, as well as over 40 college and high school teams.
For more information about Rothman Institute please call 1-800-321-9999 or visit www.RothmanInstitute.com.
About Capital Health
Capital Health is the Central New Jersey/Lower Bucks County region's leader in providing progressive, quality patient care with significant investments in physicians, nurses and staff, as well as advanced technology. Comprised of two hospitals (Capital Health Regional Medical Center in Trenton and Capital Health Medical Center – Hopewell), a Hamilton outpatient facility, and various primary and specialty care practices across the region, Capital Health is a dynamic healthcare resource accredited by The Joint Commission.
A four-time Magnet-designated health system for nursing excellence, Capital Health serves as a Level II regional trauma center, regional perinatal center (including a Level III NICU), and emergency mental health screening center. Capital Health also offers the region's first and most experienced Pediatric Emergency Department and most recently, New Jersey's first autism-friendly Pediatric Emergency Department. Capital Health also provides innovative programs such as the Capital Institute for Neurosciences; nationally accredited Center for Comprehensive Breast Care; Center for Digestive Health; Marjorie G. Ernest Joint Replacement Center of Excellence; award-winning Center for Oncology; and Heart & Vascular Institute, which includes the region's first accredited Chest Pain Center. For more information, visit capitalhealth.org.