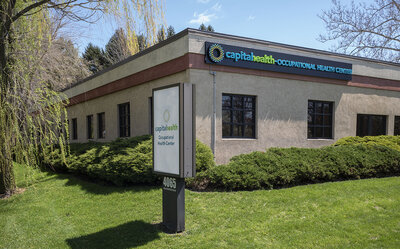 Capital Health Corporate Health Center, formerly located in Hamilton, New Jersey, has moved to a new location at 4065 Quakerbridge Road, Suite 104, Princeton Junction, New Jersey, 08550 (at the intersection of Village Road). The Center's staff, office hours, and phone number remain the same, but to better reflect the services it provides, the name has changed to Capital Health Occupational Health Center. The Center provides clients with immediate evaluation and follow-up care for work-related injuries and illnesses, pre-placement employee physical examinations, DOT exams, return to work evaluations, on-site radiography, drug and alcohol testing programs, medical exams for immigration, and many other services.
"Our new Occupational Health Center, just four miles from our former location in Hamilton, meets all of the needs of our corporate customers and our Capital Health employees," said Dr. Lalitha Gumidyala, medical director of the Capital Health Occupational Health Center. "In addition to being more centrally located for our clients in Mercer and Middlesex counties, the newly renovated facility also has ample parking that can accommodate oversized vehicles."
Capital Health Occupational Health Center's new location has convenient access to Route 1, Route 206, Interstate 295, and other major roads in the area. As part of the Center's recent move, Capital Health has implemented a new, specialized electronic occupational medicine record system that will improve how information is shared with clients. Expanded services are also planned for the future.
For more information, call 609-689-5750 or visit capitalhealth.org/occupationalhealth.