Trenton, NJ - Dr. Timothy Chen, a board certified radiation oncologist, has joined the Capital Health medical staff as director of Stereotactic Radiosurgery at the Center for Oncology, located at Capital Health Medical Center – Hopewell. He has interests in gynecological malignancy, lung cancer, brachytherapy (LDR/HDR) and CyberKnife® Radiosurgery.
"One of the most important decisions for a patient who receives a cancer diagnosis is to find a medical team that can guide him or her through diagnosis, treatment and survivorship," said Rona Remstein, director of Oncology Services, Capital Health. "We're proud to welcome Dr. Chen to our roster of experienced medical experts who represent a wide range of fields related to oncology—including medical oncology, radiation oncology, surgical oncology, neurosurgery, digestive health, radiology, plastic and reconstructive surgery, breast surgery, and hepatobiliary surgery."
Prior to joining Capital Health, Dr. Chen was an attending radiation oncologist at Saint Claire's Health System at its Denville and Dover campuses, vice chairperson of the Department of Radiation Oncology at Morristown Memorial Hospital and an attending radiation oncologist at North Shore/LIJ University Hospital in Manhasset, Long Island, NY. He is also president of the Board of Advisory of the American Cancer Society – Eastern Division where he supervises their Asian Initiatives program, which provides cancer education, programs and services to the Asian community in northern and central New Jersey.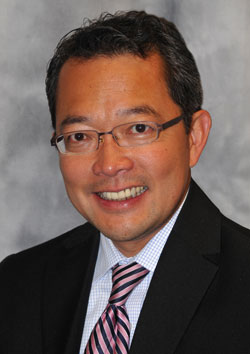 Dr. Chen earned his medical degree from Universidad Technologica De Santiago College of Medicine in Santo Domingo, Dominican Republic. He started his residency training in the Radiation Department of Oncology at the State University of New York at Syracuse. Dr. Chen finished his training at the New York Hospital Cornell Medical Center where he was elected Chief Resident of his senior year. He previously served as an assistant professor at the State University of New York – Stony Brook Department of Radiation Oncology.
"From providing state-of-the-art technology to recruiting some of the best physicians from nationally known medical centers, I'm excited to join an organization that prides itself on being a regional pioneer for some of the most advanced cancer treatments and diagnostic tools," said Dr. Chen. "As Central Jersey's first hospital to provide treatments using the TrueBeamTM Linear Accelerator and CyberKnife® Radiosurgery System, we continue to offer the most experience when it comes to safe, non-surgical treatment options for cancer anywhere in the body."
With its location at the new Capital Health Medical Center – Hopewell, the Center for Oncology also offers unique services that make visits for patients and families as comfortable and convenient as possible. Such amenities include a designated parking lot and private entrance just for the Center for Oncology, a suite within the on-site Oasis Spa at Hopewell that's just for oncology patients, concierge services, and a soothing environment that includes rooftop gardens outside and fireplace settings inside.
To learn more about Dr. Chen, the Capital Health Center for Oncology or to make an appointment, call 609-303-4244 or visit capitalhealth.org/cancer.