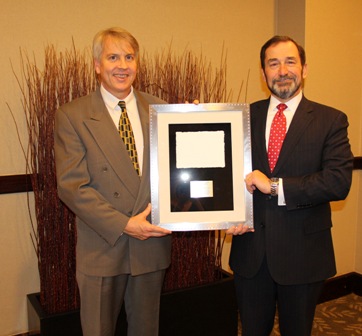 Pennington, NJ – Capital Health is pleased to announce Dr. David Schaebler as this year's recipient of the Dr. Martin Epstein Award for Humanitarian Service.  Dr. Schaebler, a medical oncologist with Mercer Bucks Hematology & Oncology received this award in honor of his exceptional actions serving members of the local and global communities.
For 17 years, Dr. Schaebler has spent every Monday morning voluntarily attending to patients in the medical clinic at the Capital Health Family Health Center, located at 433 Bellevue Avenue in Trenton.
"Dr. Schaebler embodies the standards of service and selflessness that Dr. Martin Epstein envisioned for this award. Capital Health and our patients are fortunate to have a physician of his character providing care here in our community," said Al Maghazehe, president and CEO, Capital Health.
Dr. Schaebler's service extends beyond the Mercer County community, including annual visits to remote villages of Guatemala. For 12 years, he has spent one week a year bringing medical and spiritual care to the people of these regions.  As well as administering antibiotics and therapeutic treatments, Dr. Schaebler helped with the construction of a school and several houses. He has also introduced a water-purification system and assisted in the construction and installation of vented stoves in homes.