National guidelines focus on importance of evaluating all treatment options and triaging by EMS
Early treatment of acute ischemic stroke changed dramatically in 2015, when the American Heart Association/American Stroke Association (AHA/ASA) provided an update to the guidelines for the management of acute ischemic stroke to now include endovascular stroke treatment. The guidelines solidified the important role comprehensive stroke centers play in their communities and the importance of relationships between local primary and comprehensive stroke centers. How patients get to these comprehensive centers took the spotlight this year when the AHA adopted triage criteria for EMS to take patients directly to a comprehensive stroke center instead of a stroke ready or primary stroke center.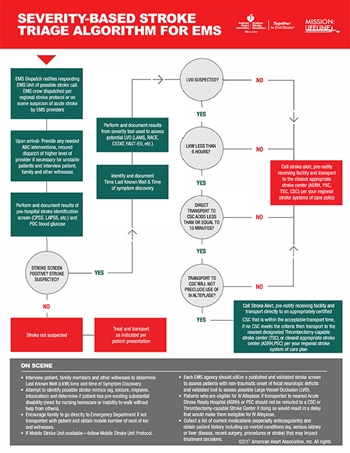 Ischemic stroke accounts for the vast majority of all stroke cases, occurring when a vessel supplying blood to the brain is blocked. Blockages of arteries can be treated in two ways. One way is using intravenous tissue plasminogen activator (tPA), a clot-busting medicine that is administered through an IV. Another way is using endovascular therapy in which a catheter is threaded through an artery in the patient's leg up into the brain to deploy tiny retrievable stents that clear the blockage.
Prior to 2015, if a patient had an ischemic stroke, AHA/ASA guidelines dictated that endovascular therapy "could be considered" in addition to tPA. Although some evidence at that time suggested that those patients who received endovascular therapy in addition to tPA experienced better outcomes, there were no significant studies to support this nor was there scientific evidence to establish a higher standard of care. Endovascular therapy, available at comprehensive stroke centers like Capital Health, was an option, but not something that treating physicians were compelled to consider.
"Doctors want to do what's best for patients by practicing evidence-based medicine," says Dr. Michael F. Stiefel, director of the Capital Institute for Neurosciences and director of the Stroke and Cerebrovascular Center at Capital Health. "Before 2015, there was simply not enough good data to require primary stroke centers, neurologists, and emergency department doctors to send the ischemic stroke patients to a comprehensive stroke center for endovascular therapy. The 2015 guidelines established a clear, nationally recognized guide for when it's appropriate for endovascular therapy at a comprehensive stroke center like Capital Health Regional Medical Center."
In 2015, five studies published by the New England Journal of Medicine drove the change to require that endovascular therapy be considered. Where endovascular therapy was once considered rescue therapy after tPA, the stroke community now had scientific evidence to support that endovascular stroke therapy improves patient outcomes. And while endovascular therapy may not be appropriate for all ischemic stroke patients, the studies supported the AHA/ASA to establish updated criteria that now determines the best possible course of treatment for ischemic stroke sufferers. Specifically, the new AHA/ASA guidelines for the early management of patients with ischemic stroke regarding endovascular therapy state that "patients should receive endovascular therapy with a stent retriever" if they meet all the following criteria:
(a) prestroke modified Rankin Scale (mRS) score of 0 to 1,

(b) acute ischemic stroke receiving intravenous r-tPA within 4.5 hours of onset,

(c) causative occlusion of the internal carotid artery or proximal MCA (M1),

(d) age 18 years or older,

(e) National Institutes of Health Stroke Scale (NIHSS) score of higher than or equal to 6,

(f) Alberta Stroke Program Early CT Score (ASPECTS) of higher than or equal to 6, and

(g) treatment can be initiated (groin puncture) within 6 hours of symptom onset.
In all aspects of stroke care, time is brain. For every 30-minute delay in treatment, there's a 10 percent reduction in the likelihood of a good outcome. tPA, which must be administered within 4 ½ hours of the onset of symptoms, remains the first step for ischemic stroke treatment.  But with these new guidelines, endovascular therapy has taken its place as critical treatment for patients with large vessel occlusions, which means blood flow is being blocked in one of the main arteries of the brain.

This means transport to a comprehensive stroke center for endovascular therapy to remove the clot causing the stroke.
More recently, the AHA/ASA also provided support for improving stroke treatment for EMS and first responders before a patient arrives at the hospital. In 2017, a severity-based stroke triage algorithm for EMS providers was released to assist emergency responders in determining the appropriate pathway to care for acute stroke patients. When symptoms are severe, EMS can triage to a comprehensive stroke center, provided extra drive time doesn't add 15-30 minutes to the patient's timeline or take them out of the 4 ½ hour window for tPA. Those appearing to have a major stroke should go to a comprehensive stroke center, according to the AHA/ASA.
Capital Health Regional Medical Center (RMC) is certified by The Joint Commission as an Advanced Comprehensive Stroke Center, meaning it meets national standards that are applied to all hospitals. As one of one of only seven hospitals in New Jersey and given its close proximity to Pennsylvania, Capital Health Regional Medical Center serves patients in both New Jersey and Eastern Pennsylvania.
In the neuro endovascular operating room at RMC, neurosurgeons use the most advanced neuro imaging to assess patients and treat them using minimally invasive approaches for stroke, aneurysms, arteriovenous malformations (AVMS), carotid stenosis, and intracranial atherosclerosis. RMC also includes the largest Neurosurgical Intensive Care Units in New Jersey and the Delaware Valley for those patients who require them.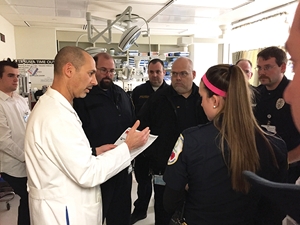 Capital Health's Mobile Stroke Unit (MSU) reduces the delay in diagnosis and treatment even more, bringing tPA, a CT scanner, point-of-care laboratory testing, and a specialized team to the patient's home or wherever the unit is dispatched. "The goal of the MSU is to provide time-sensitive stroke care to those who are exhibiting signs," said Dr. Stiefel. "Once they're on board, we can bring patients to the most appropriate stroke center—whether it's one of the primary stroke centers in our region or the comprehensive stroke center at Regional—which saves even more time and, more importantly, lives."
It's important to note that the advanced level of stroke care available at Capital Health Regional Medical Center extends to the entire region. "We want the communities in our area to understand that we're not just a New Jersey hospital," said Dr. Stiefel. "We also serve patients from Bucks County, PA and surrounding areas that need the support of a comprehensive stroke center. We want to treat patients as safely as possible, and anything that reduces delay in treatment improves their chances for better outcomes."