Only NJ hospital, 1 of 45 in the US named Top General Hospital by The Leapfrog Group
Trenton, NJ – Highlighting its nationally recognized achievements in patient safety and quality, Capital Health Regional Medical Center was named a Top General Hospital by The Leapfrog Group, making it the only New Jersey hospital to earn this distinction. Announced yesterday, the Leapfrog Top General Hospital award was bestowed on only 45 hospitals throughout the country and is widely acknowledged as one of the most competitive honors American hospitals can receive. The Top General Hospital designation is awarded by The Leapfrog Group, an independent hospital watchdog organization.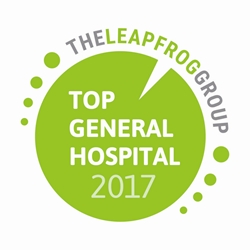 "Capital Health Regional Medical Center is the place that patients in our area rely on for lifesaving treatment of severe injuries, stroke and high acuity neurovascular emergencies, and many other life threatening conditions. Our designation as a Top General Hospital by The Leapfrog Group recognizes the emphasis that our care providers place on putting patient safety first," said Al Maghazehe, president and CEO, Capital Health.
Among thousands of hospitals in the country, Capital Health Regional Medical Center received a Top General Hospital distinction, recognized nationally alongside:
10 Top Children's Hospitals
45 Top General Hospitals
18 Top Rural Hospitals
36 Top Teaching Hospitals
Performance across many areas of hospital care is considered in establishing the qualifications for the award, including infection rates, maternity care, and the hospital's capacity to prevent medication errors. The rigorous standards are defined in each year's Top Hospital Methodology.
"We are proud to recognize Capital Health Regional Medical Center as a 2017 Leapfrog Top Hospital. This demonstrates extraordinary dedication to patients and the local community. The entire staff and board deserve praise for putting quality first and achieving results," said Leah Binder, president and CEO of Leapfrog.
To qualify for the Top Hospitals distinction, hospitals must submit a Leapfrog Hospital Survey. The selection of Top Hospitals 2017 is based on surveys from nearly 1,900 hospitals. To see the full list of institutions honored as 2017 Top Hospitals, visit www.leapfroggroup.org/tophospitals.
Capital Health Regional Medical Center was recently one of 832 hospitals across the country awarded an "A" by The Leapfrog Group for its commitment to keeping patients safe and meeting the highest safety standards in the U.S. The Leapfrog Group, a national nonprofit health care ratings organization, released new Leapfrog Hospital Safety Grades of A, B, C, D and F to hospitals nationwide based on their performance in preventing medical errors, infections and other harms.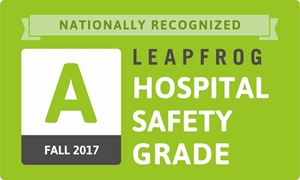 Developed under the guidance of a Blue Ribbon National Expert Panel, the Leapfrog Hospital Safety Grade uses 27 measures of publicly available hospital safety data to assign A, B, C, D and F grades to more than 2,600 U.S. hospitals twice per year. It is calculated by top patient safety experts, peer reviewed, fully transparent and free to the public.
To see Capital Health Regional Medical Center's full grade, and to access patient tips for staying safe in the hospital, visit www.hospitalsafetygrade.org and follow the Leapfrog Hospital Safety Grade on Twitter and Facebook.
About The Leapfrog Group
Founded in 2000 by large employers and other purchasers, The Leapfrog Group is a national nonprofit organization driving a movement for giant leaps forward in the quality and safety of American health care. The flagship Leapfrog Hospital Survey collects and transparently reports hospital performance, empowering purchasers to find the highest-value care and giving consumers the lifesaving information they need to make informed decisions. The Leapfrog Hospital Safety Grade, Leapfrog's other main initiative, assigns letter grades to hospitals based on their record of patient safety, helping consumers protect themselves and their families from errors, injuries, accidents, and infections.
About Capital Health
Capital Health is the Central New Jersey/Lower Bucks County region's leader in providing progressive, quality patient care with significant investments in physicians, nurses and staff, as well as advanced technology. Comprised of two hospitals (Capital Health Regional Medical Center in Trenton and Capital Health Medical Center – Hopewell), a Hamilton outpatient facility, and various primary and specialty care practices across the region, Capital Health is a dynamic healthcare resource accredited by The Joint Commission.
A four-time Magnet-designated health system for nursing excellence, Capital Health serves as a Level II regional trauma center, regional perinatal center (including a Level III NICU), and emergency mental health screening center. Capital Health also offers the region's first and most experienced Pediatric Emergency Department and most recently, New Jersey's first Autism-Friendly Pediatric Emergency Department. Capital Health also provides innovative programs such as the Capital Institute for Neurosciences; nationally accredited Center for Comprehensive Breast Care; Center for Digestive Health; Marjorie G. Ernest Joint Replacement Center of Excellence; award-winning Cancer Center; and the Heart & Vascular Institute, which includes the region's first accredited Chest Pain Center. For more information, visit capitalhealth.org.