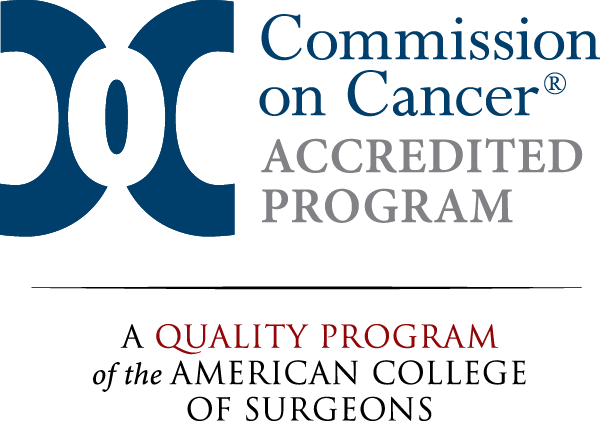 Capital Health Cancer Center, located at Capital Health Medical Center – Hopewell, has again received national accreditation from the Commission on Cancer (CoC), a quality program of the American College of Surgeons (ACS) for another three-year term. To earn accreditation, a cancer program must meet 34 quality care standards established by the CoC, be evaluated every three years through an extensive survey process, and maintain levels of excellence in the delivery of comprehensive patient-centered care. Capital Health last earned this accreditation in 2016.
As a CoC-accredited cancer center, Capital Health takes a multidisciplinary approach to treating cancer as a complex group of diseases that requires individualized care among surgeons, medical and radiation oncologists, diagnostic radiologists, pathologists, and other cancer specialists. This multidisciplinary partnership results in improved patient care.
 "This is significant. Being reaccredited as a comprehensive community cancer center by the Commission on Cancer demonstrates our ability to provide cancer treatment and care that meets the highest standards in the nation and regionally," said Dr. Cataldo Doria, medical director of Capital Health's Cancer Center and an internationally renowned surgeon. "It also reaffirms that we have an extraordinary team of medical specialists committed to providing patients with individualized treatment plans tailored to their needs across all disciplines involved in care."
The CoC Accreditation Program provides the framework for Capital Health to maintain its high quality of cancer care through various programs that focus on the full spectrum of cancer care including prevention, early diagnosis, cancer staging, optimal treatment, rehabilitation, life-long follow-up for recurrent disease, and end-of-life care. When patients receive care at a CoC facility, they also have access to information on clinical trials and new treatments, genetic counseling, and patient-centered services including psycho-social support, a patient navigation process, and a survivorship care plan that documents the care each patient receives and seeks to improve cancer survivors' quality of life.  
Like all CoC-accredited facilities, Capital Health maintains a cancer registry and contributes data to the National Cancer Data Base (NCDB), a joint program of the CoC and American Cancer Society and the largest clinical disease registry in the world. Data on all types of cancer are tracked and analyzed through the NCDB and used to explore trends in cancer care. CoC-accredited cancer centers use this data to create national, regional, and state benchmark reports that help CoC facilities with their quality improvement efforts.  
About Capital Health
Capital Health is the Central New Jersey/Lower Bucks County region's leader in providing progressive, quality patient care with significant investments in physicians, nurses and staff, as well as advanced technology. Comprised of two hospitals (Capital Health Regional Medical Center in Trenton and Capital Health Medical Center – Hopewell), a Hamilton outpatient facility, and various primary and specialty care practices across the region, Capital Health is a dynamic health care resource accredited by DNV – GL Healthcare.
Capital Health Cancer Center, located at Capital Health Medical Center - Hopewell, is the area's most advanced provider of cancer treatment delivered by some of the most experienced medical experts. At our center, a team of physicians from related fields such as medical oncology, radiation oncology, gynecological oncology, neurosurgery, hepato-pancreato-biliary surgery, colorectal surgery, interventional GI and pulmonology, radiology, plastic and reconstructive surgery, thoracic surgery and other specialties collaborate and provide patients with a network of physicians trained in the most complex oncology issues. Capital Health is the only center in the region that offers advanced treatment options such as CyberKnife Radiosurgery, da Vinci Robotic Surgery, TrueBeam Linear Accelerator (traditional 3D conformal radiation therapy, intensity modulated radiation therapy, RapidArc radiotherapy, and stereotactic radiosurgery), high-dose-rate radiation therapy, advanced imaging technology (digital mammography, 3D mammography, molecular breast imaging, PET/CT, and 3T MRI), nuclear isotopes (SIR-spheres), and more. Visit capitalhealth.org/cancer to learn more.