Carolyn Gaukler, MD
Director of Palliative & Supportive Care Team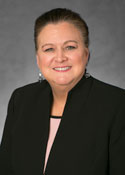 Dr. Gaukler is board certified in internal medicine and hospice and palliative care medicine. In addition to practicing inpatient palliative care at Capital Health, she maintains a limited internal medicine practice at Capital Health Primary Care - Ewing.
Dr. Gaukler received her medical degree from Temple University School of Medicine in Philadelphia, PA and completed her post-graduate training at Cooper University Hospital in Camden, NJ.
Dr. Gaukler has participated in educational programs both within Capital Health and the community at-large.
Karen Giquinto, MSN, APN
Palliative Care Nurse Practitioner
Karen is a certified nurse practitioner with extensive experience in palliative care, primary care, cardiology, critical care and family practice medicine.
Karen received her nursing degree from Mercer Medical School of Nursing. She earned her Bachelor of Science in Nursing degree from The College of New Jersey (formerly Trenton State College) in Ewing, NJ, her Master of Science in Nursing degree from the University of Pennsylvania in Philadelphia, PA, and her Post Graduate Certificate Family Nurse Practitioner degree from Widener University in Chester, PA.
Karen has presented numerous lectures on palliative and hospice medicine to registered nurses and nursing students. She is a licensed advanced practice nurse and registered professional nurse in the State of New Jersey and is a certified family nurse practitioner from the American Nurses Credentialing Center.