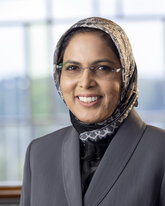 Dr. Nashat is board certified in internal medicine and geriatric medicine. She completed her fellowship training in geriatrics from the University of Illinois in Chicago, Illinois and her residency in internal medicine at Mercy Catholic Medical Center in Darby, Pennsylvania. She received her medical degree from Kakatiya Medical College in Warangal, India.
Prior to joining Capital Health Primary Care - Nottingham, Dr. Nashat was a core faculty member of the Internal Medicine Residency Program at Nazareth Hospital in Philadelphia, Pennsylvania, where she also served as program director of the Transitional Year Residency Program. Dr. Nashat has also worked in private practice and hospital systems in Illinois, Georgia, New Jersey and Pennsylvania for more than 15 years. 
Click here for a list of accepted insurances at Capital Health - Virtual Primary Care.