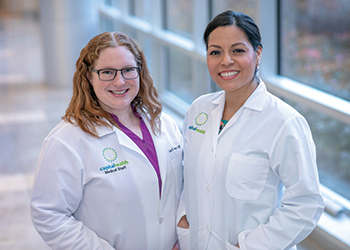 In February 2019, Dr. Rose Mustafa, a fellowship trained breast surgeon who specializes in surgical care for benign diseases and cancer, will be joining the Capital Health Center for Comprehensive Breast Care, located at Capital Health Medical Center – Hopewell.
"Our Center uses a collaborative approach, which means that patients benefit from the combined knowledge of our medical team when it comes to their care. I'm very pleased that our patients will now have additional expertise to rely on with Dr. Mustafa joining our team," said Dr. Lisa Allen, a fellowship trained breast surgeon and medical director of the Capital Health Center for Comprehensive Breast Care.
Dr. Mustafa's clinical background includes the most advanced surgical treatment options for breast cancer including skin-sparing, nipple-sparing mastectomies and modern oncoplastic techniques. Certified in hidden scar breast cancer surgery, Dr. Mustafa completed fellowship training in breast surgical oncology at the Hospital of the University of Pennsylvania in Philadelphia, PA. She completed her surgical internship at Mount Sinai Hospital, Icahn School of Medicine, New York NY, and her general surgery residency at Montefiore Medical Center- Albert Einstein College of Medicine, Bronx, NY.
"I'm thrilled to join the team at Capital Health that believes, as I do, that the best way to treat breast disease is to treat the person who has it. Not the patient, the person. I look forward to adding to the already impressive level of care being provided in such a warm, supportive environment," said Dr. Mustafa.
Dr. Mustafa will be joining Dr. Allen as part of the Capital Health Surgical Group –  Breast Surgery practice, located in Suite 505 in the medical office building inside Capital Health Medical Center – Hopewell. Both surgeons will also be seeing patients at their new Lower Makefield office this spring.
To make an appointment, call 609.537.6700 or visit capitalsurgical.org/breastsurgery for more information.
About Our Center for Comprehensive Breast Care
Our Center for Comprehensive Breast Care offers a complete range of personalized, breast care programs and services — from advanced diagnostics and genetic testing to leading edge cancer care — all at Capital Health Medical Center – Hopewell. From cancer to cysts, abscesses, lesions, breast pain and other breast-related disorders, you'll be cared for by a multidisciplinary team that collaborates closely to develop your plan of care. Depending on the nature of your problem, your team could include a breast surgeon, radiologist, medical oncologist, radiation oncologist, plastic surgeon, financial navigator, nutritionist, rehabilitation services, and more.
A personal breast health nurse navigator is by your side from an initial diagnosis through every phase of treatment, at no additional cost. Your navigator, a specially trained oncology nurse, will be your central point of contact to guide you, answer questions, help you better understand your diagnosis and treatment options, coordinate with your physicians, set up your health care services, and provide ongoing support through our Survivors Program and support groups.
Our Center is accredited by the National Accreditation Program for Breast Centers (NAPBC), a program of the American College of Surgeons, for achieving excellence in providing the highest quality cancer care.
Call 609.537.6767 or visit capitalbreast.org to learn more.