Trenton, NJ - Capital Health announced today that it has reached a milestone of treating its 500th patient using CyberKnife® Radiosurgery, a state-of-the-art non-invasive treatment for patient with previously diagnosed inoperable cancers, benign tumors, and other conditions.
"Since we began our program five years ago, CyberKnife has proven to be a viable option for those people who previously had very limited or no options for treatment of cancers, benign tumors and other conditions," said Linda Dite, vice president of Clinical Services, Capital Health.
"With the expertise of our highly trained physicians and staff who have now completed their 500th patient treatment using CyberKnife, I'm proud to say that residents across our region have an experienced center they can rely on for the highest quality and compassionate care," she said.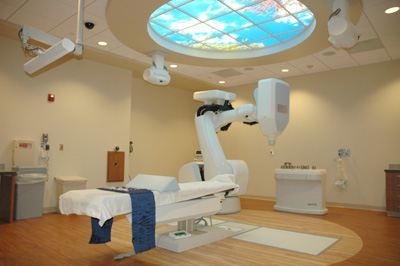 In 2007, Capital Health was the first hospital in the region covering Mercer County, NJ and Bucks County, PA to offer patients this state-of-the-art image-guided radiosurgery system that delivers radiation to tumors in the brain, spine and anywhere in the body with pinpoint accuracy, while avoiding damage to surrounding healthy tissue.
Treatments are typically delivered in as little as five sessions and patients experience no pain, no headframes and none of the uncomfortable side effects that typically accompany conventional radiation therapy or other stereotactic radiosurgery methods.
Capital Health's CyberKnife Center is located at the new Capital Health Medical Center – Hopewell, which opened last November. For more information, call 609-303-4565 or visit capitalcyberknife.org.