Trenton, NJ – The Leapfrog Group, a national nonprofit health care ratings organization, recently released new Leapfrog Hospital Safety Grades. The Safety Grade assigns letter grades of A, B, C, D and F to hospitals nationwide based on their performance in preventing medical errors, infections and other harms. Capital Health Regional Medical Center was one of 832 awarded an "A" for its commitment to keeping patients safe and meeting the highest safety standards in the U.S.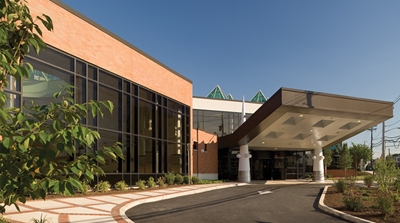 "This achievement stands as a testament to the high caliber of professionals who work at Capital Health day in and day out," said Al Maghazehe, president and CEO, Capital Health. "The various certifications and awards our hospitals receive for outstanding care—from The Joint Commission, the American Nurses Credentialing Center, the American College of Surgeons, and now The Leapfrog Group— begins with a commitment from all of us that the safety of our patients, visitors and staff is top priority and that we will tirelessly seek to eliminate actual and potential errors and safety issues."
"It takes consistent, unwavering dedication to patients to achieve the highest standards of patient safety. An 'A' Safety Grade recognizes hospitals for this accomplishment," said Leah Binder, president and CEO of The Leapfrog Group. "We congratulate the clinicians, Board, management and staff of Capital Health for showing the country what it means to put patient safety first."
Developed under the guidance of a Blue Ribbon National Expert Panel, the Leapfrog Hospital Safety Grade uses 27 measures of publicly available hospital safety data to assign A, B, C, D and F grades to more than 2,600 U.S. hospitals twice per year. It is calculated by top patient safety experts, peer reviewed, fully transparent and free to the public.
To see Capital Health Regional Medical Center's full grade, and to access patient tips for staying safe in the hospital, visit www.hospitalsafetygrade.org and follow the Leapfrog Hospital Safety Grade on Twitter and Facebook.
About The Leapfrog Group
Founded in 2000 by large employers and other purchasers, The Leapfrog Group is a national nonprofit organization driving a movement for giant leaps forward in the quality and safety of American health care. The flagship Leapfrog Hospital Survey collects and transparently reports hospital performance, empowering purchasers to find the highest-value care and giving consumers the lifesaving information they need to make informed decisions. The Leapfrog Hospital Safety Grade, Leapfrog's other main initiative, assigns letter grades to hospitals based on their record of patient safety, helping consumers protect themselves and their families from errors, injuries, accidents, and infections.
About Capital Health
Capital Health is the Central New Jersey/Lower Bucks County region's leader in providing progressive, quality patient care with significant investments in physicians, nurses and staff, as well as advanced technology. Comprised of two hospitals (Capital Health Regional Medical Center in Trenton and Capital Health Medical Center – Hopewell), a Hamilton outpatient facility, and various primary and specialty care practices across the region, Capital Health is a dynamic healthcare resource accredited by The Joint Commission.
A four-time Magnet-designated health system for nursing excellence, Capital Health serves as a Level II regional trauma center, regional perinatal center (including a Level III NICU), and emergency mental health screening center. Capital Health also offers the region's first and most experienced Pediatric Emergency Department and most recently, New Jersey's first Autism-Friendly Pediatric Emergency Department. Capital Health also provides innovative programs such as the Capital Institute for Neurosciences; nationally accredited Center for Comprehensive Breast Care; Center for Digestive Health; Marjorie G. Ernest Joint Replacement Center of Excellence; award-winning Cancer Center; and the Heart & Vascular Institute, which includes the region's first accredited Chest Pain Center. For more information, visit capitalhealth.org.