Capital Health Medical Group, a network of more than 500 physicians and other clinicians who offer primary and specialty care, has opened a new primary care office in West Windsor. The office is new in addition to the new primary care office that opened only a few weeks ago in nearby East Windsor. 
Located at 352 Princeton-Hightstown Road, Suite A6 in West Windsor, New Jersey, Capital Health Primary Care – West Windsor is led by Drs. Radhika Laskarzewski and Sumiya Ahmed, board certified physicians who offer services to help prevent illness, handle everyday medical needs, manage chronic health issues, and provide care for children (newborns and older), adolescents, and adults.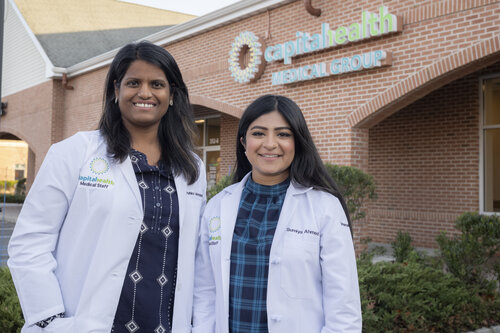 "Opening new locations in East Windsor, and now West Windsor, will help us further our goal to enable residents throughout our greater Mercer County region to establish connections with primary care providers who can help them achieve long-lasting health and wellness goals," said Dr. Jerrold Gertzman, medical director of Capital Health Medical Group – Primary Care. "In addition to offering services at in-person appointments, patients have the option to receive support in managing their health by using services provided by our new virtual practice, Capital Health – Virtual Primary Care."
Dr. Radhika Laskarzewski is a board certified family medicine physician who provides care to patients of all ages, ranging from newborns to adults. Dr. Laskarzewski completed her family medicine residency at the University of Medicine & Dentistry of NJ (UMDNJ) – Robert Wood Johnson, CentraState Hospital in Freedhold, New Jersey, where she served as co-chief resident. Dr. Laskarzewski has been on staff for most of the past decade at the nearby Capital Health Primary Care – Quakerbridge office in Lawrenceville, New Jersey, and is also on staff at the new Capital Health Primary Care – East Windsor office. 
Dr. Sumiya Ahmed is a board certified internal medicine physician who provides care for adults. Dr. Ahmed completed her internal medicine residency at Capital Health Regional Medical Center in Trenton, New Jersey, and is fluent in English, Hindi, and Urdu. 
As part of Capital Health Medical Group, Capital Health Primary Care – West Windsor offers easy access to experienced specialists and surgeons when necessary and the most advanced care in the region at nearby Capital Health hospitals when patients need it most – virtually everything they need to stay on the path to better health. 
All Capital Health Medical Group offices use a shared electronic medical records system, which allows providers to access medical records on a secure network, making it convenient for patients to continue their care across the network of primary and specialty care providers. Patients can also manage their health easier using Capital Health Medical Group's patient portal, which allows patients to conveniently access information about any of their office visits online. 
Office hours at Capital Health Primary Care – West Windsor are Monday, Tuesday, Thursday, Friday (8 a.m. to 4 p.m.) and Wednesday (11 a.m. to 7 p.m.). To make an appointment, call 609.537.7400 or visit www.capitalhealth.org/westwindsor.