When you or someone you know is having a heart attack, getting the right treatment in a timely manner greatly improves your chances of a better outcome. Through its commitment to an evidence-based approach to care that can reduce the time to treatment during the critical early stages of a heart attack, Capital Health Medical Center – Hopewell has earned accreditation as a Chest Pain Center with Primary PCI (Percutaneous Coronary Intervention) from the American College of Cardiology (ACC) for the fourth consecutive time.

"As the health care landscape continues to evolve, it's important for the community we serve to know that we are here and ready to provide safe and efficient care when they need us most," said Dr. Mark Arcaro, vice president of Clinical Performance at Capital Health. "This accreditation demonstrates our continuing dedication to being a quality leader in cardiac emergency care and providing better outcomes for our patients. We do this by following the latest best practices for managing heart attacks with increased speed and efficiency, as well as providing education about the early signs of heart attack."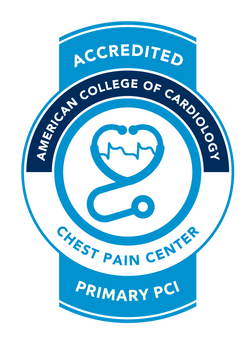 The ACC and its Chest Pain Center Accreditation program work to transform cardiovascular care and improve heart health by ensuring that participating health care organizations like Capital Health meet systemwide quality-of-care measures and implement necessary protocols, processes, and systems in order to earn accreditation.

"Providing our patients with the highest quality emergency cardiac care requires a concerted effort," said Dr. Lara Samson, medical director of Capital Health's Chest Pain Center. "Earning our fourth consecutive accreditation from the ACC is a great accomplishment and a testament to the unwavering dedication of our experienced doctors, nurses, and other dedicated professionals who remain committed to implementing the ACC's rigorous guidelines for patient care."

If you think you or someone you know is having a heart attack, calling 911 should be your first step to talk with a trained dispatcher and have an ambulance sent to your location as quickly as possible. Treatment can begin on site when the ambulance arrives and may include medication and EKG testing. If on-site testing determines that a heart attack is occurring, Capital Health's pre-hospital alert system immediately mobilizes specialized medical teams in the Emergency Department and Cardiac Catheterization Lab at Capital Health Medical Center – Hopewell to perform additional testing or an emergency procedure as needed when the patient arrives.

With ACC Accreditation status, hospitals like Capital Health Medical Center – Hopewell demonstrate a higher level of expertise in dealing with patients who present with symptoms of a heart attack. By focusing on standardized diagnostic and treatment programs, the Chest Pain Center team is able to evaluate patients with heart attack symptoms more efficiently and effectively and provide appropriate and rapid care. They also provide access to other services at Capital Health to evaluate and treat other medical issues that may come to light and promote a healthier lifestyle that may reduce the risk factors for heart attack.

To learn more about Capital Health's Chest Pain Center, visit capitalchestpain.org.
Call 911 immediately if you or someone you know is experiencing the signs and symptoms of a heart attack.
About Capital Health
Capital Health is the region's leader in providing progressive, quality patient care with significant investments in our exceptional physicians, nurses and staff, as well as advanced technology. Comprised of two hospitals (our Regional Medical Center in Trenton and Capital Health Medical Center – Hopewell), our Hamilton outpatient facility, and various primary and specialty care practices across the region, Capital Health is a dynamic health care resource accredited by DNV GL - Healthcare.
A five-time Magnet®-recognized health system for nursing excellence, Capital Health serves as a Level II regional trauma center, comprehensive stroke center, regional perinatal center (including a Level III NICU), and emergency mental health screening center. We also offer the region's first and most experienced Pediatric Emergency Department and New Jersey's first Autism-Friendly Pediatric Emergency Department. Capital Health takes great pride in innovative programs such as its Capital Institute for Neurosciences; nationally accredited Center for Comprehensive Breast Care; Center for Digestive Health; Marjorie G. Ernest Joint Replacement Center of Excellence; award-winning Cancer Center; and Heart & Vascular Institute, which includes the region's first accredited Chest Pain Center. To learn more, visit capitalhealth.org.
About the American College of Cardiology
The American College of Cardiology envisions a world where innovation and knowledge optimize cardiovascular care and outcomes. As the professional home for the entire cardiovascular care team, the mission of the College and its 54,000 members is to transform cardiovascular care and to improve heart health. The ACC bestows credentials upon cardiovascular professionals who meet stringent qualifications and leads in the formation of health policy, standards and guidelines. The College also provides professional medical education, disseminates cardiovascular research through its world-renowned JACC Journals, operates national registries to measure and improve care, and offers cardiovascular accreditation to hospitals and institutions. For more, visit acc.org.