TRENTON, NJ - Capital Health has donated 25 potentially life-saving medical kits to the Sheriff's Emergency Response Team (SERT) in Mercer County. The kits enable team members to administer initial treatment to other SERT team members, or themselves, when a scene is not yet safe for emergency medical service (EMS) personnel to enter. Prior to the donation, team members had to wait for initial treatment until EMS was cleared onto the scene.
"As the region's trauma center, we see the unfortunate outcome of violence first hand," said Dr. Louis D'Amelio, medical director of the Bristol-Myers Squibb Trauma Center at Capital Health Regional Medical Center. "The members of the SERT team work tirelessly to keep our communities safe. I don't want to see any of them come through our trauma center. But, if something does happen, having this medical kit onsite gets vital medical care initiated more quickly."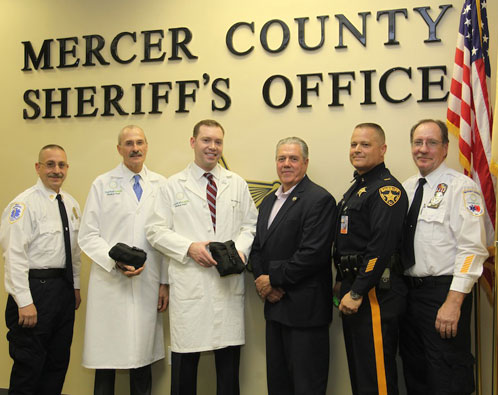 From left, Scott Frank, MICU paramedic, Capital Health; Dr. Louis D'Amelio, medical director, Bristol-Myers Squibb Trauma Center at Capital Health Regional Medical; Dr. Michael Kelly, trauma surgeon, Capital Health; Mercer County Sherriff John A. Kemler; Lt. Harry Harbourt; Mark Reading, MICU paramedic, Capital Health
"Capital Health's partnership with our SERT team spans more than fourteen years, and we are extremely thankful for the dedication and support they have provided," said Sheriff Jack Kemler. "Today's generous donation will go a long way in putting many minds at ease knowing that life-saving measures can be implemented immediately should the need arise."
"As the son of a retired corrections officer, I have a tremendous amount of respect for law enforcement personnel," said trauma surgeon Dr. Michael Kelly, who spearheaded the donation from Capital Health. "These men and women bravely serve our community, often putting their lives at risk. We should do all that we can to show our appreciation and support for what they do. I hope the SERT members who receive these kits never need to use them. But if they can potentially save even one life, then they are worth every penny." Dr. Kelly is a member of the US Army and deploys overseas this May in support of Operation Enduring Freedom.
The kits include tourniquets, bandages, gloves, and a nasopharyngeal airway. The kits are based on US Army recommendations for medical equipment needed on the battlefield. Two leading causes of death on the battlefield include severe hemorrhage and insufficient airway. This kit is now in the hands of the Sheriff's office SERT team, and increases survival likelihood in the event that a team member is shot on scene.