On Saturday, October 22, 2022, the Rothwell and Henderson families and Pennington Quality Market hosted a one-day shopping event donating 5% of the day's proceeds to Capital Health's Center for Comprehensive Breast Care. In its 8th consecutive year, more than $41,000 has been raised benefiting services and programs available to the women (and men) cared for at the Capital Health Center for Comprehensive Breast Care. "It is with profound gratitude and appreciation, Capital Health thanks the Rothwell and Henderson families, as well as Pennington Quality Market for their continued commitment to patient care and for generously supporting the Cancer Center." said Al Maghazehe, president and CEO, Capital Health.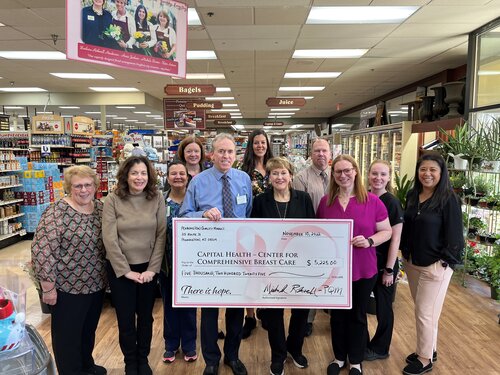 "My mother's death from breast cancer 30 years ago taught all of us the importance of raising awareness to educate women on early breast care and benefit services. And through early detection, my sisters Barbara and Terri were able to address their cancer diagnosis quickly and successfully. So, for the Rothwell Family, supporting the Capital Health Center for Comprehensive Breast Care is deeply personal. We are proud to offer our support to recognize the valuable life-saving services they provide," said Mike Rothwell, Pennington Quality Market.
The Capital Health Center for Comprehensive Breast Care provides a complete range of breast care under one roof, from annual screenings and advanced diagnostics to genetic testing, leading-edge oncology care and a high-risk breast cancer program. The Center is accredited by the National Accreditation Program for Breast Centers (NAPBC), a program of the American College of Surgeons. For more information, visit www.capitalbreast.org.
The Pennington Quality Market is a family owned and operated grocery store in Pennington that is committed to supporting the community.
For more about this event, please call the Capital Health Office of Development at (609) 303-4121.