Trenton, NJ - Capital Health announced today that Capital Health Medical Center - Hopewell has been designated as a Baby Friendly hospital, only the second hospital in New Jersey to attain this status.
"With the dedicated participation of our obstetrics and pediatrics teams, we have been able to achieve a level of patient-centered care achieved by fewer than 134 hospitals in the United States," said Al Maghazehe, president & CEO, Capital Health. 
"Capital Health Medical Center - Hopewell is honored to have met the high standards for Baby Friendly designation and, more importantly, to be able to bring this level of care to our region," he said.
Being a Baby Friendly hospital means that Capital Health has demonstrated its commitment to providing comprehensive support and education for breastfeeding mothers and their infants by implementing the 10 Steps to Successful Breastfeeding.
Studies have shown that breastfeeding translates to better health for both babies and mothers and health benefits persist throughout life. Babies who are breastfed have fewer and less serious illnesses, including a reduced risk of SIDS and less childhood cancer and diabetes. Mothers who breastfeed enjoy decreased risks of breast and ovarian cancer, anemia, and osteoporosis.
"I would like to congratulate all our physicians, nurses and staff for their extraordinary commitment to our patients. Baby Friendly designation ranks us among an elite group of facilities that provide excellence in support and training to new mothers," said Pam Graziadei, divisional director of Maternal Child Health Services, Capital Health
"Every new mother who passes through our doors will have the information, confidence and support that she needs to safely and nutritiously take care of her baby," she said.
Baby-Friendly, USA is a non-profit organization that implements the Baby Friendly Hospital Initiative (BFHI) in the United States. The BFHI, sponsored by the World Health Organization and the United Nations Children's Fund (UNICEF), encourages and recognizes hospitals and birthing centers that offer an optimal level of care for infant feeding. The CDC reports that less than 3% of hospitals providing birthing services in the United States are Baby Friendly designated.
10 Steps to Successful Breastfeeding
Have a written breastfeeding policy that is routinely communicated to all health care staff.
Train all health care staff in skills necessary to implement this policy.
Inform all pregnant women about the benefits and management of breastfeeding.
Help mothers initiate breastfeeding within one hour of birth.
Show mothers how to breastfeed and how to maintain lactation, even if they are separated from their infants.
Give newborn infants no food or drink other than breast milk, unless medically indicated.
Practice "rooming in"-- allow mothers and infants to remain together 24 hours a day.
Encourage breastfeeding on demand.
Give no pacifiers or artificial nipples to breastfeeding infants.
Foster the establishment of breastfeeding support groups and refer mothers to them on discharge from the hospital or clinic.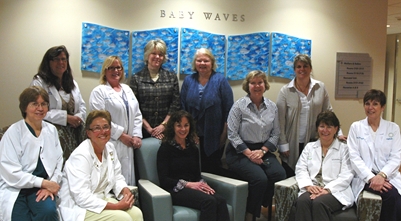 Members of the Baby Friendly committee (seated left to right): Martha Goldman, nurse manager, Obstetrical Services; Diane Procaccini, coordinator, Lactation Services; Pam Graziadei, divisional director, Maternal Child Health Services; Chris Saltzman, director, Maternal Child Health Services; Margaret Estlow, pediatric clinical nurse specialist; Judi Daly, clinical manager, Health Start. (standing left to right) Diane Patterson, nurse manager, NICU Services; Karen Adamczyk, nurse educator; Jill Mahony, obstetrics clinical nurse specialist; JoAnn Ennis, coordinator of childbirth & parent education; Heather Keller, nurse manager, Pediatric Emergency Department and Pediatrics Services.