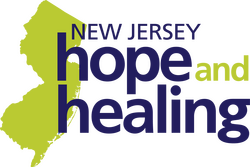 The NJ Hope and Healing program, brought to you by Capital Health, was a program funded through a FEMA/SAMSHA grant that served employees of all health care facilities responding to the COVID-19 crisis. This program ended on June 30, 2021.
A Message from the NJ Hope and Healing Team:
It has been a pleasure to serve the frontline employees who have been tirelessly working to protect our communities through the COVID-19 pandemic. We thank you for all that you do, and we hope you continue your self-care and wellness journeys.
Due to prolonged stress and increased responsibility to care for those affected by the continuing pandemic, front-line workers in health care may be in need of additional support and resources. To best care for others, maintaining and prioritizing self-care is essential. To continue to foster wellbeing and provide support to healthcare workers, the Hope and Healing Helpline will continue to be available through the program RISE (Resilience In Stressful Events) at Capital Health.
The RISE (Resilience In Stressful Events) Peer responder program is designed to provide timely support to staff in response to stressful, patient-related events. It was developed as a support system for health care employees, recognizing that health care is complex and often stressful.
Helpline
If you or anyone you know needs to speak with someone, please call our helpline (Monday – Friday, 8:30 a.m. – 4:30 p.m.) at 609-303-4129.
Please call us for support, information, or local resources. Whether you're calling for yourself or on someone else's behalf, we are here for you. Confidentiality is guaranteed, so contact us today for more information, or to get help right away.