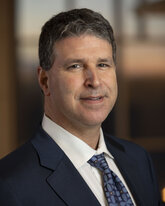 Dr. David Drucker received his medical degree from Washington University - St. Louis School of Medicine in St. Louis, Missouri and completed residencies at Yale-New Haven Hospital and Yale-University School of Medicine in New Haven, Connecticut. Dr. Drucker was fellowship trained in cardiovascular medicine, echocardiography and interventional cardiology at Yale-New Haven Hospital. He is board certified in cardiovascular disease and interventional cardiology. 
Dr. Drucker was previously president and managing partner at Mercer Bucks Cardiology prior to joining Capital Health – Cardiology Specialists. He currently serves as Director of Structural Heart Disease. Dr. Drucker's clinical interests include transcatheter aortic valve replacement (TAVR), cardiac catheterization, coronary angioplasty and stent placement, minimally invasive therapy for peripheral arterial disease, and endovascular treatment of aortic and thoracic aneurysms.
Dr. Drucker is a member of the American College of Cardiology and American Medical Association, as well as a fellow of the Society for Cardiovascular Angiography and Interventions.
Click here for a list of accepted insurances at Capital Health Cardiology Specialists – Newtown.