Trenton, NJ - Capital Health recently welcomed Dr. Lisa R. Allen to its medical staff. Dr. Allen is a fellowship-trained breast surgeon and joined the healthcare system as director of the Capital Health Center for Comprehensive Breast Care. Dr. Allen joined Capital Health from MD Anderson Cancer Center, consistently ranked the best hospital in the country for cancer care, where she completed fellowship training in breast surgical oncology. She is board certified in general surgery.
Dr. Allen is part of Advanced Surgical Associates of New Jersey, a multi-specialty surgical practice dedicated to providing a wide range of advanced surgical options for a broad spectrum of conditions including breast cancer. Dr. Allen provides care for patients with both benign and malignant breast disease.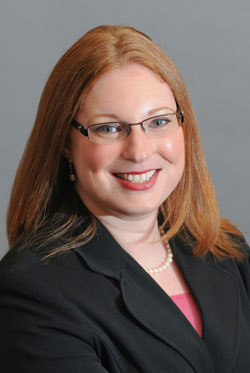 "Early in my medical career I had the opportunity to work with breast cancer patients and from there it was a straightforward path for me," said Dr. Allen. "I knew that I wanted to work closely with this group of patients and provide them with the latest surgical options for breast cancer, and to also offer support throughout the various phases of the disease. I'm looking forward to working in the Central New Jersey area and providing women with comprehensive surgical options for breast disease, both malignant and benign in nature."
"Capital Health has already made a significant commitment to breast services, offering a dedicated women's imaging center, including molecular breast imaging, mammography and biopsies when needed, " said Allen. "This is in addition to offering radiation oncology, infusion, reconstructive surgery, a breast health navigator, nutrition services, and a dedicated area within the spa at our Hopewell campus for our oncology patients. I am excited to be a part of that and to provide dedicated breast surgery services."
Dr. Allen received her medical degree from the State University of New York, Upstate Medical University in Syracuse, New York and completed her internship and residency in general surgery at Drexel University College of Medicine in Philadelphia, PA. She also served as Chief Resident during her training. During her residency, Dr. Allen spent a year doing clinical research in the area of breast cancer.
Dr. Allen remains involved in clinical research and has presented her findings at national oncology meetings and has been published in oncology journals. Some of her research areas of interest include preoperative imaging for diagnosis and treatment planning of breast cancer, the role of nodal surgery in treatment and prognosis, and the use of partial breast irradiation in patients receiving breast conservation surgery.
In 2011, Dr. Allen's paper, "Is there a role for MRI in the preoperative assessment of Patients with Ductal Carcinoma in situ (DCIS)" was chosen as an Important Paper in Breast Cancer Research by the American Society of Breast Surgeons.
Dr. Allen is a member of many professional and scientific societies, including the American College of Surgeons, American Society of Breast Surgeons, Society of Surgical Oncology, and the American Society of Clinical Oncology.
Dr. Allen can be reached for appointments at 609-537-6700.