Medical Director of Radiation Oncology Services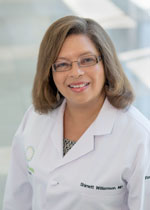 Dr. Williamson is the medical director of Radiation Oncology Services at Capital Health. After receiving her medical degree from Howard University College of Medicine, she completed her internship in Internal Medicine at Franklin Square Hospital in Baltimore and her residency in Radiation Oncology at Thomas Jefferson University Hospital. She returned to Penn Radiation Oncology following her development of the Department of Radiation Oncology at the Charlotte Kimelman Cancer Institute in the Caribbean. She served as an assistant clinical professor of Radiation Oncology at the University of Pennsylvania School of Medicine prior to joining Capital Health.
In addition to CyberKnife, Dr. Williamson specializes in external radiation using IMRT, 3D conformal treatments, HDR treatments and prostate seed implementation. She is board certified in radiation oncology.
Click here for a list of accepted insurances for Capital Health - Radiation Oncology.