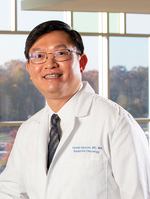 Dr. Khanh Nguyen is a board certified radiation oncologist with nearly 20 years of experience offering state-of-the art treatments for patients with prostate, lung, breast, and central nervous system (CNS) tumors and other adult malignancies. Through meticulous treatment planning and treatment response analysis, Dr. Nguyen develops personalized plans of care to meet each patient's specific needs. He is an expert in advanced treatment modalities including accelerated partial breast irradiation, stereotactic radiosurgery/stereotactic body radiation therapy, intensity modulated radiation therapy/image guided radiation therapy, magnetic resonance imaging/magnetic resonance spectroscopy, and positron emission tomography/computed tomography.
After completing undergraduate and graduate studies in physics at Harvard University, Dr. Nguyen received his medical degree at the University of California, San Diego, School of Medicine (UCSD). While at Harvard, he completed his graduate thesis with his mentor at Harvard Medical School. He also completed a thesis with one of the pioneers in tumor immunology at UCSD. His internship in internal medicine at Pennsylvania Hospital in Philadelphia (part of University of Pennsylvania) was followed by a residency in radiation oncology at Fox Chase Cancer Center, also in Philadelphia. At Fox Chase, he trained with world leaders whose clinical research set the standards of care in breast and prostate cancer managements.
Before joining Capital Health, Dr. Nguyen was a radiation oncologist at Bayhealth Medical Center in Dover, Delaware. At Bayhealth, as a member of the Penn Cancer Network, he implemented programs in high dose rate brachytherapy and stereotactic radiosurgery/stereotactic body radiation therapy, as well as a multidisciplinary neuro-oncology clinic. These programs allowed patients to receive state-of-the art care close to home. In academic settings, he served an assistant professor in the Division of Radiation Oncology at City of Hope National Medical Center in Duarte, California. He also had the privilege of working with Dr. David Townsend, inventor of the PET-CT scan, in the Cancer Imaging & Tracer Development Program at the University of Tennessee Graduate School of Medicine in Knoxville, Tennessee.
Dr. Nguyen has been the principal investigator and collaborating investigator in numerous studies related to cancer imaging, radiation therapy, and stereotactic body radiosurgery. He has published research in peer-reviewed journals and presented lectures at national and international medical conferences. Dr. Nguyen is a member of the American Society for Radiation Oncology (ASTRO), the American Radium Society, and the American Brachytherapy Society.
Click here for a list of accepted insurances for Capital Health - Radiation Oncology.