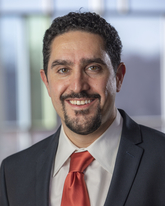 Director, Center for Incontinence and Pelvic Health
Dr. Kaveh Kousari is a board certified urologist who provides complete urological care for men and women, with a focus on incontinence management. He is experienced in performing procedures to treat benign conditions and cancer using open, laparoscopic, robotic and endoscopic approaches to urologic surgery.
Dr. Kousari received his medical degree at Washington University School of Medicine in St. Louis, Missouri, where he also completed his urology residency in partnership with Barnes Jewish Hospital. Before joining Capital Health, Dr. Kousari saw patients at St. Luke's Center for Urology (part of St. Luke's University Health Network) in Bethlehem, Pennsylvania, where he started a neuromodulation program that quickly became one of the top tibial nerve stimulation providers in the nation.
Before pursuing a career in medicine, Dr. Kousari received his undergraduate degree in biomedical engineering at the University of Rochester in Rochester, New York and worked as an engineer for Nike. In his free time, he enjoys cooking, skiing, hiking, soccer, music (playing percussion), and travel.
Click here to schedule an online appointment with Dr. Kousari.
Click here for a list of accepted insurances at Capital Health - Urology Specialists.