Pulmonologist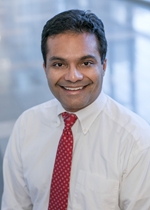 Dr. Nagella treats pulmonary/breathing problems that include asthma, cough, emphysema, shortness of breath, suspicious lung imaging, basic sleep apnea, and pneumonia/infections of the lung. He is board certified in internal medicine, pulmonary medicine, critical care medicine, and neuro-critical care.
After receiving his medical degree from Rutgers – New Jersey Medical School in Newark, NJ, Dr. Nagella went on to Rutgers – Robert Wood Johnson Medical School in New Brunswick, NJ, where he completed an internship and residency in internal medicine and fellowship training in pulmonary and critical care.
Dr. Nagella views treating patients as a privilege and works to ensure appropriate medical care is offered according to a patient's wishes and needs. Before joining Capital Health – Pulmonary Specialists, he was a hospitalist with Capital Health. He is a member of the American Thoracic Society, the American College of Physicians, the American Medical Association, and the Gold Humanism Society – for which he was selected by his medical school faculty and classmates.
Click here for a list of accepted insurances at Capital Health - Pulmonology Specialists.