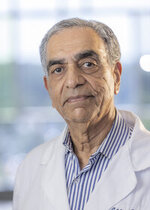 Dr. Akbar Obaray is a board certified pulmonologist with extensive experience in all aspects of pulmonary medicine, including respiratory intensive care, fiber optic bronchoscopy, transbronchial biopsies and pulmonary functional testing, as well as the management of asthma, COPD, lung cancer and interstitial lung disease. He completed fellowship training in pulmonary medicine at Queens Hospital Center (affiliate of Long Island Jewish-Hillside Medical Center) in Queens, New York, where he was senior fellow and chief resident. Dr. Obaray completed his internal medicine residency at St. Francis Medical Center in Trenton, New Jersey and received his medical degree from Grant Medical College in Mumbai, India. 
Prior to joining Capital Health – Pulmonology Specialists, Dr. Obaray was in private practice in Hamilton, New Jersey for more than 30 years. 
Click here for a list of accepted insurances at Capital Health - Pulmonology Specialists.