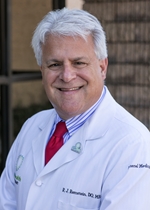 Dr. Remstein is a board certified primary care internal medicine specialist who serves in two roles at Capital Health. He is a practicing physician at Capital Health Primary Care – Brunswick Avenue. In that role, he is working to help establish a practice that addresses the primary care needs and challenges of patients in the Trenton community. Dr. Remstein enjoys caring for adults of all ages, but has a strong focus on seniors and helping them remain healthy into their retirement years.
In addition to caring for patients, Dr. Remstein is the vice president for Accountable Care at Capital Health. In that role, he works with our senior management team to grow Capital Health's outpatient network and prepare Capital Health to remain competitive with the changes brought by the Affordable Care Act.
Dr. Remstein received his medical degree from New York College of Osteopathic Medicine and completed a residency in internal medicine at Albert Einstein Medical Center, PA. He previously served as medical director of Henry J. Austin Health Care Center in Trenton, and was a founding member of Mercer Internal Medicine Associates in Pennington, NJ.
Click here for a list of accepted insurances at Capital Health Primary Care - Brunswick Avenue.