Medical Director, Occupational Health at Capital Health
Board Certified - Internal Medicine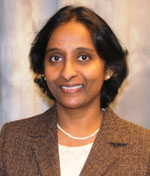 Dr. Lalitha Gumidyala is the medical director of Occupational Health at Capital Health. She received her medical degree from Osmania Medical College, University of Health Sciences in India and completed her residency in internal medicine at Newark Beth Israel Medical Center. Dr. Gumidyala completed her fellowship training in occupational medicine at the University of Pennsylvania and has more than 14 years of extensive experience in occupational medicine. She is board certified in internal and occupational medicine, earned a Master's Degree in Public Health, is a certified medical review officer and a Department of Transportation (DOT) certified Medical Examiner and certified civil surgeon.