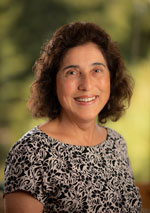 Dr. Jesmin Mitra obtained her MD in her hometown of Bombay, India. Following that, she completed four years of residency in England and Scotland, achieving her MRCOG (Member of the Royal Society of Obstetricians and Gynecologists). She then came to the US and completed her Ob/Gyn residency at Temple University Hospital in Philadelphia, becoming board certified and a Fellow of the American College of Obstetrics and Gynecology.
Dr. Mitra's favorite activities include hiking, biking, dancing, reading and interacting with her patients.
Click here to schedule an online appointment with Dr. Mitra.
Click here for a list of accepted insurances at Capital Health OB/GYN - Langhorne.