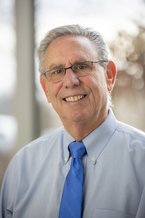 After obtaining a Bachelor of Arts degree at the University of Pennsylvania, Dr. Sussman graduated from the Medical College of Pennsylvania in Philadelphia. He completed his obstetrics and gynecology residency at the Medical College of Pennsylvania.
Dr. Sussman has dedicated his entire 35 year career to women's health issues through his clinical practice, community involvement, and contribution to research on pharmaceutical therapies. He finds his work extremely rewarding--guiding women through all aspects of their adult life: from their early adult years, through their reproductive years and pregnancies, and continuing to be there for them during their more mature years. Over his many years in practice, Dr. Sussman has come to know hundreds of women who he has cared for through these transitions.
Dr. Sussman met his wife of 30 years, Cindy, while they were both attending medical school. She is a physician who specializes in emergency medicine and now practices family medicine. They have a daughter who works as an architect in New York and a son who is a psychometrician and research coordinator at a memory clinic in Boston.
In his free time, Dr. Sussman loves playing golf and tennis, as well as following Philadelphia sports teams despite their limited recent success! Additionally, though not perhaps the most accomplished player, he enjoys playing the piano which he took up as a hobby 15 years ago. Dr. Sussman grew up in Levittown, Pa., and has lived with his family in their present house in Yardley, Pa. for 30 years.
Click here for a list of accepted insurances at Capital Health OB/GYN - Bordentown.