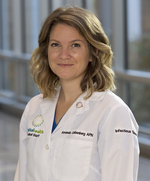 Amanda Liebenberg is a board certified nurse practitioner with experience caring for patients in hospital, primary care, and pediatric care settings. She received her Bachelor of Science in Nursing degree from The College of New Jersey in Ewing, NJ and her Master of Science in Nursing: Family Nurse Practitioner degree from Georgetown University in Washington, D.C.
Before joining Capital Health – Infectious Disease Specialists, Amanda was a nurse on the Telemetry Unit at Capital Health Regional Medical Center (RMC) in Trenton, NJ. As a member of the hospital's Skin Care Task Force, Amanda helped conduct weekly assessments on all wounds at RMC and presented a webinar on wound care best practices to the New Jersey Hospital Association.
Click here for a list of accepted insurances at Capital Health - Infectious Disease Specialists.