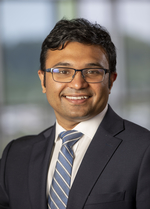 Dr. Satvik Shah is a fellowship trained cardiologist and is board certified in internal medicine. He received his medical degree from Rowan University School of Osteopathic Medicine in Stratford, NJ, where he also completed his fellowship training in cardiology (serving as chief fellow), his internal medicine residency, and an internal medicine internship (serving as chief intern).
Dr. Shah is a proud product of Mercer County, having grown up in Lawrence Township. In fact, his journey to a career in medicine began as a volunteer at Capital Health. He is excited to come back to serve the community that has had a great influence on his medical career.
Dr. Shah has published and presented research at medical conferences. He is a member of the American Osteopathic Association and the American College of Osteopathic Internists. Dr. Shah is fluent in Gujarati.
Click here for a list of accepted insurances at Capital Health - Heart Care Specialists.