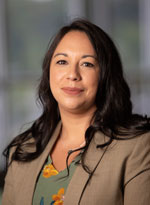 Amber Barron is an advanced practice registered nurse with experience providing inpatient and outpatient consultation, counseling, education, and supervision of testing to help patients manage chronic cardiac conditions.
Amber received her Master of Science in Nursing degree as a women's health nurse practitioner from Duke University School of Nursing in Durham, North Carolina, where she also received a post graduate certificate as an adult geriatric primary care nurse practitioner. She is a board certified women's health nurse practitioner and a board certified adult-geriatric primary care nurse practitioner.
Before joining Capital Health, Amber was a general cardiology nurse practitioner in private practice at Vidant Heart and Vascular, part of Vidant Medical Group, in Kenansville, North Carolina. She is a member of the American Association of Nurse Practitioners and the National Association of Nurse Practitioners in Women's Health.
Amber has special interest in electrophysiology, the study of the electrical properties of the heart . She is a military spouse and veteran, and in her spare time enjoys reading, going to the beach, and spending time with her family.