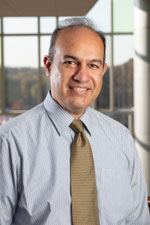 Dr. Waseem Butt is a board certified, fellowship trained gastroenterologist who specializes in upper endoscopy, colonoscopy, video capsule endoscopy, Fibroscan, and interpretation of Bravo pH, bacterial overgrowth and lactose intolerance tests.
After completing his internal medicine internship and residency at St. Joseph's University Medical Center in Paterson, New Jersey. Dr. Butt was fellowship trained in hepatology at University of Miami Miller School of Medicine in Miami, Florida. He was fellowship trained in gastroenterology at Geisinger Medical Center in Danville, Pennsylvania. Dr. Butt is board certified in internal medicine and received his medical degree from King Edward Medical College in Lahore, Pakistan.
Before joining Capital Health, Dr. Butt was an attending gastroenterology and hepatology physician at Geisinger Wyoming Valley Medical Center in Wilkes Barre, Pennsylvania. In an academic setting, he was an assistant professor of Internal and Family Medicine at Wright State University Boonshoft School of Medicine in Dayton, Ohio.
Dr. Butt has published reseach in peer-reviewed journals and abstracts and presented research at national medical conferences. Fluent in English and Urdu, he is a member of the American College of Gastroenterology, the American Association for the Study of Liver Diseases, and the American Society for Gastrointestinal Endoscopy. In his free time, Dr. Butt likes to play cricket, watch soccer games.
Click here for a list of accepted insurances at Capital Health Gastroenterology Specialists – Newtown.