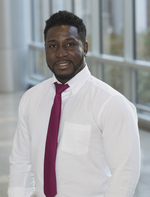 Dr. Michael Itidiare is a fellowship trained gastroenterologist who diagnoses, treats, and manages conditions that affect the digestive system, including (but not limited to) irritable bowel syndrome (IBS), gastroesophageal reflux (GERD), peptic ulcer disease, colon polyps and cancer, colitis, gallbladder and biliary tract disease, pancreatitis, and nutritional problems.
After receiving his Master of Biomedical Sciences degree at University of Medicine and Dentistry of New Jersey School of Osteopathic Medicine in Stratford, New Jersey, Dr. Itidiare received his medical degree from Philadelphia College of Osteopathic Medicine in Philadelphia, Pennsylvania.
Dr. Itidiare completed his internal medicine residency at Hackensack University Medical Center at Mountainside in Montclair, New Jersey and was fellowship trained in gastroenterology at Jefferson Health/Rowan University School of Osteopathic Medicine in Stratford, New Jersey. He is board certified in internal medicine.
Dr. Itidiare has published gastroenterology research in peer-reviewed medical journals and presented research at national gastroenterology conferences. He is a member of the American College of Gastroenterology and the American College of Osteopathic Family Physicians. In his spare time, Dr. Itidiare enjoys web design, real estate rehabilitation, cooking, and kickboxing.
Click here for a list of accepted insurances at Capital Health Gastroenterology Specialists – Bordentown.