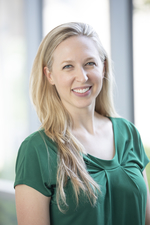 Lisa Costello is a licensed advanced practice nurse and board certified family nurse practitioner. After receiving her bachelor's degree in International Health from Georgetown University in Washington, D.C., Lisa received her Bachelor of Science in Nursing degree at the University of Medicine and Dentistry of New Jersey (UMDNJ) in Newark, NJ and her Master of Science in Nursing degree at Thomas Jefferson University in Philadelphia, PA.
Before joining Capital Health – Gastroenterology Specialists, Lisa was a registered nurse in the Neuro Telemetry, Neuro Intermediate, and Neuro Intensive Care Units at Capital Health Regional Medical Center. She was a member of Capital Health's Magnet Preparation Committee and Nursing Quality Council, organizations within the health system that work to improve the quality of care for patients.
As a student, Lisa served as the Student Peer Mentor Coordinator at UMDNJ and has volunteered with the American Heart Association and Susan G. Komen Race for the Cure.
Click here for a list of accepted insurances at Capital Health Gastroenterology Specialists – Bordentown.