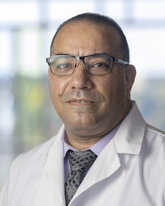 Khaled Rady is a board certified nurse practitioner and registered nurse. He received his Bachelor of Science in Nursing degree from Rutgers University in Newark, New Jersey and his Master of Science in Nursing degree from Drexel University in Philadelphia, Pennsylvania.
Khaled is experienced in providing complex clinical assessments, therapy, and diagnostic testing for patients. Before joining Capital Health, he was an acute care nurse practitioner in a critical care setting. He is passionate about delivering the best patient care possible.
In his free time, Khaled enjoys playing tennis with his son and reading to further his medical knowledge.