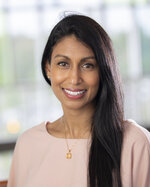 Dr. Cynthia Edirisuriya is a fellowship trained gastroenterologist who specializes in performing screening and diagnostic tests to detect diseases and conditions related to the digestive system. Dr. Edirisuriya received her medical degree from Drexel College of Medicine in Philadelphia, Pennsylvania. She is board certified in Internal Medicine after completing her Internal Medicine Residency at Thomas Jefferson University Hospital in Philadelphia, Pennsylvania. She completed her fellowship training in Gastroenterology and Hepatology at Cooper University Hospital in Camden, New Jersey.
Dr. Edirisuriya has experience in diagnosing and managing gastroesophageal reflux, esophageal strictures, colon polyps, irritable bowel syndrome, constipation, fatty liver disease, hepatitis C and other gastrointestinal conditions. She performs upper endoscopy, colonoscopy, complex polypectomy, video capsule endoscopy and esophageal dilation. 
Dr. Edirisuriya's research has been published in peer-reviewed medical journals, and she has presented her findings at several regional and national medical conferences. She has received Presidential and Presenter awards for abstract presentations at national conferences. 
Dr. Edirisuriya is a member of the American Medical Association, as well as various gastroenterology professional societies, including the American Society of Gastrointestinal Endoscopy, the American College of Gastroenterology and the American Gastroenterological Association. 
In her spare time, Dr. Edirisuriya enjoys baking, traveling and spinning. She is also conversant in Spanish. 

Click here to schedule an online appointment with Dr. Edirisuriya.
Click here for a list of accepted insurances at Capital Health Gastroenterology Specialists – Bordentown.