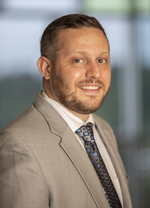 Dr. William Torelli is a fellowship trained rheumatologist who diagnoses and treats autoimmune conditions and diseases that affect the joints, muscles and bones and cause pain, swelling, stiffness, and deformity. The conditions Dr. Torelli treats include (but are not limited to) rheumatoid arthritis, gout, pseudogout, osteoarthritis, osteoporosis, psoriatic arthritis, enteropathic arthritis, lupus, Sjogren's syndrome, mixed connective tissue disease, scleroderma and vasculitis.
Dr. Torelli performs diagnostic ultrasound to help discern the cause(s) of arthritis pain and also to determine the effectiveness of medications being used to treat the arthritis. He also performs ultrasound-guided joint aspirations and injections with corticosteroids for greater precision and efficacy.
After receiving his medical degree from the Philadelphia College of Osteopathic Medicine in Philadelphia, Pennsylvania, Dr. Torelli completed his internal medicine residency at Geisinger Medical Center in Danville, Pennsylvania. He completed his fellowship training in rheumatology, including training in musculoskeletal ultrasound, at Lehigh Valley Health Network in Allentown, Pennsylvania. He is board certified in internal medicine.
Dr. Torelli is a member of the American College of Rheumatology, American College of Physicians and the American Osteopathic Association. In his spare time, he enjoys literature, attending Mass, spending time with family and friends, coin collecting, and spending time at the beach.
Click here for a list of accepted insurances at Capital Health - Rheumatology Specialists.