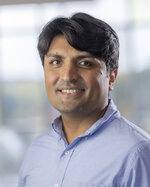 Dr. Om Amin is a board certified, fellowship trained gastroenterologist who specializes in diagnosing and treating a range of conditions that affect the digestive system, including gastroesophageal reflux (GERD), peptic ulcer disease, eosinophilic esophagitis (EoE), irritable bowel syndrome, Barrett's esophagus, celiac disease, gastrointestinal bleeding, chronic liver disease, inflammatory bowel disease, pancreatitis, and other gastrointestinal conditions. Dr. Amin is trained in diagnostic and therapeutic upper endoscopy and colonoscopy, as well as video capsule endoscopy. 
After receiving dual degrees in Bachelor of Science in Biology and Bachelor of Business Administration at Millsaps College in Jackson, Mississippi, Dr. Amin earned his medical degree from American University of Antigua College of Medicine, where he graduated cum laude. Dr. Amin completed his internal medicine residency at Charleston Area Medical Center-West Virginia University in Charleston, West Virginia, where he served as the chief ambulatory medicine resident. He then completed his fellowship training in gastroenterology at West Virginia University in Morgantown, West Virginia. 
Before joining Capital Health, Dr. Amin helped establish a Gastroenterology service line at St. Cloud Regional Medical Center - Orlando Health in St. Cloud, Florida, where he developed an endoscopy center for inpatient and outpatient services. 
Dr. Amin is board certified in gastroenterology and internal medicine. He is a member of several gastroenterology professional socieites, including the American Gastroenterological Association, the American Society for Gastrointestinal Endoscopy, and the American College of Gastroenterology. 
Throughout his careeer, Dr. Amin's gastroenterology research has been published in peer-reviewed medical journals, and he has presented his findings at regional and national gastroenterology and internal medicine conferences. In his spare time, Dr. Amin enjoys playing tennis, running, cooking, and traveling with his wife, daughter, and son.