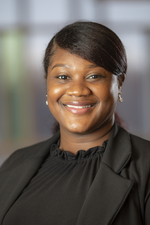 Tatyana Shields is a licensed clinical social worker who provides clinical services to culturally diverse client populations, with a focus on child and adolescent patients. Through a patient-centered, evidence-based approach, Tatyana offers support and guidance to individuals and families as they undertake major life changes. Her areas of professional interest include intergenerational trauma, anxiety/depression, neurodevelopmental disorders, relationships, and marginalized populations with a focus on collaborative and integrated care.
Tatyana completed her undergraduate studies at State University of New York at Potsdam in Potsdam, New York and received her Master of Social Work degree at Florida International University (FIU) in Miami, Florida. During her graduate studies, Tatyana completed an internship at Touching Miami With Love, a faith-based organization in Miami, Florida, where she provided individual and group therapy, parent education and support, and crisis intervention and conflict resolution. She also provided counseling services for residents of communities of need in Miami as part of NeighborhoodHELP, an FIU program that promotes social accountability and interprofessional household-centered care. Before joining Capital Health, Tatyana was a staff therapist at Syracuse University's Barnes Center at the Arch Counseling in Syracuse, New York, where she provided mental health and wellness services in person and via telemedicine for a diverse student population.
Click here for a list of accepted insurances at Capital Health - Behavioral Health Specialists.