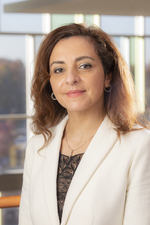 Dr. Irene Gabrial is a board certifed, fellowship trained psychiatrist who specializes in the diagnosis and treatment of children, adolescents, and young adults through a multidisciplinary approach to care. Dr. Gabrial's clinical interests include anxiety disorders, stress-related disorders, mood disorders, obsessive-compulsive disorders, and disruptive behaviors such as attention deficit disorder (ADD), attention deficit hyperactivity disorder (ADHD), and oppositional defiant disorder (ODD).
After completing her psychiatry residency at Albert Einstein Medical Center in Philadelphia, Pennsylvania, Dr. Gabrial completed fellowship training in child and adolescent psychiatry at University of Medicine and Dentistry of New Jersey in Piscataway, New Jersey, where she was also fellowship trained in geriatric psychiatry. Dr. Gabrial received her medical degree at Cairo University - Faculty of Medicine in Cairo, Egypt. She is board certified in child and adolescent psychiatry and general psychiatry.
Before joining Capital Health, Dr. Gabrial was a staff psychiatrist and interim director of the Counseling, Alcohol and Other Drug Assistance Program & Psychiatric Services (CAPS) at Rutgers University, where she was also a clinical assistant professor for the University's Child and Adolescent Psychiatry Fellowship program.
In her spare time, Dr. Gabrial enjoys spending time with family, traveling, cooking and hiking.
Click here for a list of accepted insurances at Capital Health - Behavioral Health Specialists.