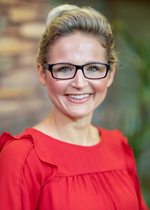 Chelsea Hoagland is a licensed clinical social worker with experience in inpatient and outpatient mental health counseling and substance abuse assessment and treatment. She received her undergraduate degree in social work at Fordham University, Rosehill College in Bronx, New York and received her Master of Social Work (MSW) degree at Fordham University Graduate School of Social Services in New York, New York, graduating summa cum laude.
During her graduate studies, Chelsea completed internships at Full Circle Mental Health Clinic in Bronx, New York and Mercy Center – Family Resource Center in Asbury Park, New Jersey. Also while at Fordham, Chelsea represented the university in an outreach program that worked with homeless youth in San Diego, California.
Before joining Capital Health, Chelsea was a clinician at CRP Behavioral Health in Long Branch, New Jersey, where she provided individual, family, and couples counseling in an outpatient setting. In her spare time, Chelsea is a volunteer with the Center in Asbury Park, a nonprofit organization that provides assistance and support to people living with HIV/AIDS in Monmouth County, New Jersey.
Click here for a list of accepted insurances at Capital Health - Behavioral Health Specialists.