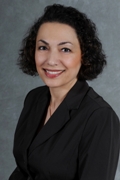 Trenton, NJ - Capital Health recently welcomed Dr. Mitra Assadi, a board certified and fellowship trained neurologist, to its Capital Institute for Neurosciences. Dr. Assadi joins the institute as director of Headache Medicine and Pediatric Neurology. In her new role, Dr. Assadi runs the Headache Center and will also see pediatric neurology patients referred to the institute. Dr. Assadi will see patients in the Capital Institute for Neurosciences' new offices in the medical office building attached to the new Capital Health Medical Center – Hopewell.
Dr. Assadi joined Capital Health after 14 years at Cooper University Hospital in Camden, NJ where she served as director of the EEG Lab and the headache program. Dr. Assadi is board certified in neurology, headache medicine, and clinical neurophysiology. She was one of the first physicians in the United States to become board certified in the area of headache medicine.
"I was extremely pleased to join Capital Health and the Capital Institute for Neurosciences," said Dr. Assadi. "During the past few years, Capital Health has developed a reputation for providing a very high level of neuroscience care and I look forward to its continued growth and being a part of it."
At the Headache Center, Dr. Assadi offers a multi-disciplinary approach to patients offering a variety of services for patients including nerve blocks and Botox injections. The Headache Center also offers the services of clinical psychologist, Jeff Bessey, PhD and rehabilitation specialist, Jerrold Friedman, MD.
"Having a psychologist on board is quite unique to this program," said Dr Assadi. "Dr. Bessey brings years of experience in pain management to the Headache Center. As a result of his joining our program, our patients can receive a variety of interventions including cognitive behavioral therapy, bio-feedback and relaxation therapy."
"Dr Friedman is a certified acupuncturist with expertise in manual medicine. Using these strategies allows us to mitigate headache pain at many different levels," added Dr. Assadi.
Dr. Assadi will also provide a comprehensive range of pediatric neurology services at the institute, including skin and muscle biopsy and genetic testing for children with developmental delays, autism and genetic disorders, as well as testing and treatment for children with attention deficit hyperactivity disorder (ADHD).
After completing her medical degree, Dr. Assadi held a research fellowship position at the National Institutes of Health (NIH). Subsequently, she completed her residency in neurology at Drexel University and a pediatric neurology fellowship at St. Christopher's Hospital for Children. 
Dr. Assadi is actively involved in teaching and research. In 2008, she was promoted to associate professor of Neurology and Pediatrics at Robert Wood Johnson Medical School, a position which she will maintain while at Capital Health. She is also an adjunct professor of Neurology and Pediatrics at Rowan Medical School.
Dr. Assadi's research has mostly focused on neuro-genetic disorders, in particular leukodystrophies. She has served as a clinical investigator at the Center for Cell and Gene Therapy at University of Medicine and Dentistry of New Jersey since 2004. In addition, she has been involved in the NIH-sponsored gene therapy research for Canavan disease, which was conducted at the Gene Therapy Center. She has special expertise in Canavan disease and her published research on the use of lithium in Canavan patients has established the standard of care for these patients in the scientific community. She continues to collaborate with the Gene Therapy Center where the next project will involve using stem cell therapy for Canavan disease.
Dr. Assadi's research in the epidemiology of migraine in adolescents was awarded the first place prize in the nation in 2010 by Young Epidemiological Scholars in Washington, D.C. Dr. Assadi is a reviewer for multiple medical journals including Journal of Neurology, Neurosurgery and Psychiatry, Pediatric Neurology, Cerebellum and Journal of Pediatric Biochemistry.
Dr. Assadi is well respected by her peers and was selected by them as a "TOP DOC" in SJ Magazine and South Jersey Magazine in 2010 and 2011. She was also selected as a "TOP FEMALE DOC" by SJ Magazine in 2011.
Capital Health Regional Medical Center is a state designated Comprehensive Stroke Center which establishes it as a leader in providing advanced care for patients suffering from stroke. The healthcare system's new hospital in Hopewell Township is a state designated Primary Stroke Center. Capital Health has also received certification from The Joint Commission -- the gold standard for stroke care. Capital Health is home of the Stroke and Cerebrovascular Center of New Jersey and the Capital Institute for Neurosciences, which gives the hospital an even greater ability to treat the most critical cerebrovascular patients utilizing the most advanced technologies and treatments. The hospital offers one of only a handful of neurosurgical intensive care units in the state and last year opened the country's first Center for Neurologic Emergency Medicine at its Regional Medical Center, a dedicated emergency program for patients requiring emergency care involving the brain, spine or central nervous system.
Appointments with Dr. Assadi can be scheduled by calling 609-537-7300.