Welcomes new Institute for Neurosciences Director
Trenton, NJ – Capital Health, the region's only Joint Commission and state designated Comprehensive Stroke Center, today announced its new Institute for Neurosciences Director, Dr. Michael Stiefel. The healthcare system also announced key initiatives that will improve patient care and provide education for physicians and other healthcare professionals caring for patients with life-threatening conditions like strokes and aneurysms.
New institute director announced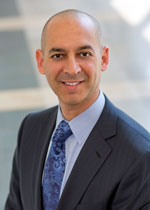 Dr. Michael Stiefel, a fellowship trained, board certified neurosurgeon specializing in cerebrovascular and endovascular neurosurgery, joined Capital Health as the Director of the Capital Institute for Neurosciences and as Director of the Stroke & Cerebrovascular Center at Capital Health.
"Dr. Stiefel's experience clearly demonstrates his commitment to excellence and his leadership will result in even greater advances for our patients, "said Al Maghazehe, president and CEO of Capital Health. "I have no doubt that our Capital Institute for Neurosciences will further elevate the level of care patients can expect to receive at an advanced neuroscience center like the one we opened eight years ago."
As director of the Capital Institute for Neurosciences, Dr. Stiefel oversees all neurosurgical and neurological services offered at the Institute as well as the hospital's Comprehensive Stroke Program, Neurosurgical Intensive Care Unit, and neuroscience research activities.
"One of the most impressive things about Capital Health, and a big part of why I decided to join the Institute, is its commitment to highly specialized, advanced care for patients with brain and spine diseases," said Dr. Stiefel. "For patients in the region, that means access to the most advanced technology and physicians with extensive experience in caring for neurologic issues, whether they are time sensitive emergencies like stroke, or conditions that require ongoing specialized care like Parkinson's Disease, brain tumors, headache, spine disorders or complex and difficult to treat pain. I look forward to working with the impressive group of physicians and other providers already part of the Capital Health team to continually advance the care we can provide to our patients."
Dr. Stiefel received his MD and PhD from the Medical College of Virginia. He completed his neurosurgery training at the University of Pennsylvania. While at the University of Pennsylvania, he completed training in diagnostic neuroradiology and was the Groff Cerebrovascular Research Fellow as well as an NIH research fellow. He then went on to complete a fellowship in endovascular neurosurgery at the Barrow Neurological Institute in Phoenix, Arizona.
Dr. Stiefel joined Capital Health from Westchester Medical Center in New York where he was director of the Neurovascular Institute, director of Cerebrovascular and Endovascular Neurosurgery and co-director of Neuro-Critical Care. While at Westchester, he established one of the largest comprehensive neurovascular programs for the treatment of stroke, aneurysms, and brain hemorrhages in the New York/Connecticut region and Hudson Valley. Prior to that, he served as director of the Comprehensive Cerebrovascular & Endovascular Neurosurgery Program and associate director of Neuro-Critical Care at the University of Pennsylvania.
As a cerebrovascular neurosurgeon, Dr. Stiefel offers surgical treatments using microsurgical and endovascular techniques to treat cerebral aneurysms, acute stroke, subarachnoid hemorrhage, arteriovenous malformations (AVMs), arteriovenous fistulas (AVFs), carotid stenosis, intracranial stenosis, and cavernous malformations.
Dr. Stiefel is a nationally recognized researcher in the area of stroke and has been at the forefront of trialing new devices for the treatment of ischemic stroke and cerebral aneurysms. He was first in the New York region to use the Solitaire Stent-Triever for stroke after FDA approval and is currently one of the most experienced users of the Pipeline Embolization Device for the treatment of aneurysms.
Neuro-endovascular operating room - interventional suite upgrade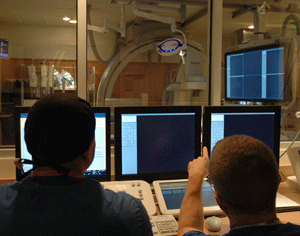 As part of a comprehensive set of initiatives to further elevate stroke care in the state, Capital Health also announced a more than $500,000 investment to upgrade the system in its neuro-endovascular suite which will reduce radiation exposure for patients.
Biplane angiography is a powerful tool that allows physicians to see the tiny blood vessels of the brain in great detail while performing endovascular procedures to treat patients. Specialists like Dr. Stiefel, who is a dual-trained neurosurgeon, use the biplane to provide imaging while treating a variety of neurological disorders endovascularly, the advantage of which is shorter procedure times, quicker recovery and fewer complications.
Patients who can be treated in the suite using minimally invasive approaches include those with cerebral aneurysms, arteriovenous malformations (AVMS), stroke, carotid stenosis, and intracranial atherosclerosis. Endovascular procedures access the brain using a small incision in the groin and a catheter that is threaded to the part of the brain being affected by vascular disease.
Patients with ischemic stroke are treated in the suite emergently if they are candidates for mechanical thrombectomy to remove a clot blocking the flow of blood to the brain.
State-of-the-art simulator helps surgeons prepare for complex brain procedures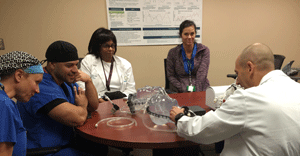 As part of its continued commitment to brain care, Capital Health also announced that it has acquired a neurovascular simulator. Capital Health is the first hospital in the country to acquire such technology. Capital Health is expanding its role in neuroscience to not only be a center for advanced patient care but a center for training physicians and health care providers.
While many of today's simulators are largely software-based, the Vascular Replication System® which will be used at Capital Institute for Neurosciences, offers next-generation technology utilizing 3D printing to physically replicate blood vessels and blood flow through the heart, aorta, and brain. This will allow Capital Health to train physicians on neuro-endovascular treatments for complex stroke, aneurysm and other neurovascular disorders. It will also provide the option for our own team to perform simulated procedures in a clinical environment that is identical to the one in which they will actually treat patients.