What is Hyperbaric Medicine?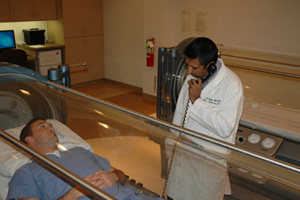 Hyperbaric oxygen therapy is a medical treatment that allows patients to breathe 100% oxygen while lying comfortably inside a pressurized chamber. This hyperbaric, or high-pressure, dose of oxygen provides distinct therapeutic benefits and is used to treat a variety of illnesses, as well as problem wounds. Hyperbaric oxygen therapy provides one or more of the following:
Enhanced wound healing
Increased oxygen delivery to injured tissue
Improved infection control
Greater blood vessel formation
Preservation of damaged tissues
Elimination and reduced effects of toxic substances
Depending on the severity of the wound or condition, the hyperbaric physician will determine the number of treatments that you may receive. Hyperbaric therapy sessions last approximately two hours per day, five days a week.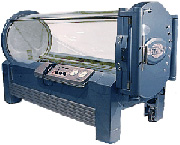 What does it feel like?
During hyperbaric oxygen therapy, you will lie comfortably in the chamber breathing normally. Most patients choose to watch television or a movie during their treatments. Other patients prefer to nap during this time. During the session, the chamber will pressurize with little noticeable change other than a slight pressure or fullness in the ears, similar to the mild pressure you may feel when flying.
Are there any side effects?
Like all medical treatments, hyperbaric oxygen therapy does present some risks. Some patients experience side effects such as: vision changes, lightheadedness, ear popping and sinus blockage. Any additional risks will be discussed with you by your physician prior to treatment as well as any contraindications related to treatment.
How do I know if it's right for me?
Led by Medical Director Dr. Manish Gugnani, our multi-specialty team of physicians, nurses and allied health professionals are specially trained in hyperbaric medicine. The physicians and nurses provide a comprehensive patient assessment and implement a treatment plan in collaboration with your primary or referring physician. During your course of therapy, the Center maintains ongoing communication with your physician, including full documentation of your treatment and progress.
Examples of some of the approved conditions for which hyperbaric oxygen therapy has been proven effective include:
Radiation injury
Compromised skin grafts or flaps
Chronic non-healing wounds
If you think that you may benefit from hyperbaric oxygen therapy, discuss this treatment option with your primary care physician. And for further information, call the Capital Health Center for Hyperbaric Medicine at 609-303-4177.
Our Expert Team
Manish Gugnani, MD, FCCP
Dr. Gugnani is medical director of Capital Health's Center of Hyperbaric Medicine. He received his medical degree from University of Nigeria and completed his residency at State University of New York, Lutheran Medical Center, Brooklyn, NY. He is board certified in sleep medicine, pulmonary medicine, internal medicine, and critical care medicine. He is also a diplomate of the American Board of Sleep Medicine.
Seth Rosenbaum, MD
Dr. Seth Rosenbaum is board certified in infectious disease and internal medicine. He received his medical degree from the Universidad Autonoma de Guadalajara in Guadalajara, Mexico. He completed his residency in internal medicine as well as a fellowship in infectious disease at Cooper University Hospital/UMDNJ in Camden, NJ.
Anasse Souidi, MD
Dr. Souidi received his medical degree from Abdou Moumouni University of Niamey and completed his residency at Capital Health in Trenton, NJ.
 
Stephen Tieku, MD
Dr. Tieku received his medical degree from the University of Ghana, Accra and completed his residency at St. Michael's Medical Center in Newark, NJ. He is board certified in critical care medicine and pulmonary disease.